The comfy version of the YSL Tribute sandals! Or at least that's how I call these incredibly stylish Saint Laurent slip-ons. Although they won't elongate your legs like their high-heel alternatives, these YSL slides are perfect for giving your feet some much-needed rest! That's why I've decided to make this post all about the YSL Tribute slides dupes you can get on the market!

Saint Laurent Nu Pieds Leather Sandals HERE | $595
Just in case you don't have $600 to spend for a pair of slides, then the below Saint Laurent Nu Pieds dupes are definitely going to fit within your budget. Some of the styles are, of course, made from faux leather, whereas others – from genuine! Moreover, there are a couple of suede styles that I'm sure are going to find a nice home!
In terms of price, you certainly have a lot of options to choose from! The dupes from Amazon are an absolute bargain with a price tag of less than $20 for some pairs. If you want to get a genuine leather pair of YSL Tribute slides, then you'll have to pay a little bit more.
Ahead, the best Saint Laurent slides alternatives on the market!
YSL Tribute Slides Dupes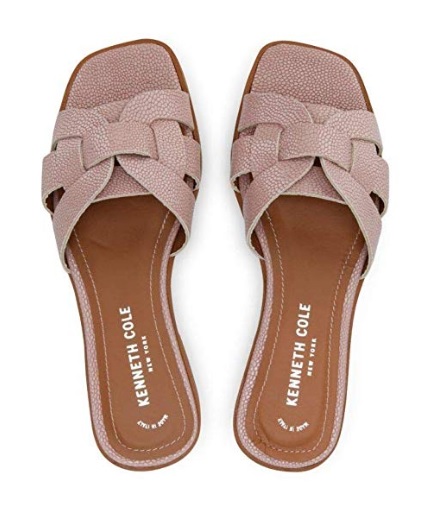 Pale Pink YSL Tribute Slides Dupes HERE (UK) & HERE (US)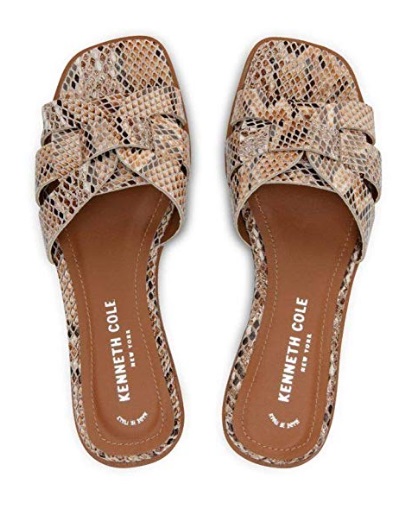 Printed YSL Tribute Slides Dupes HERE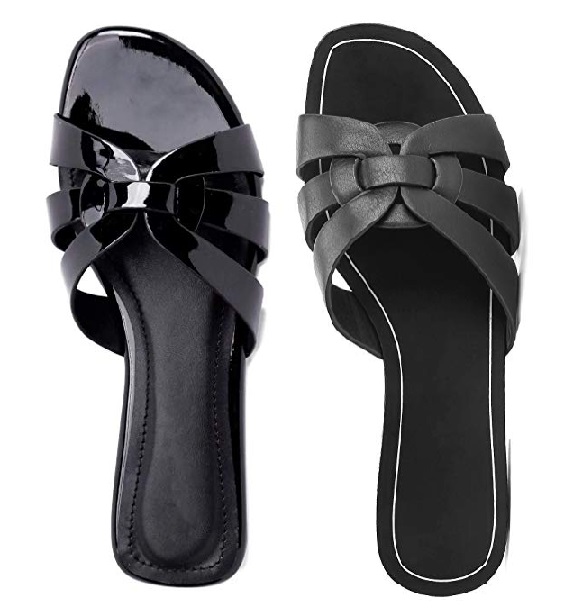 Black YSL Tribute Slides Dupes HERE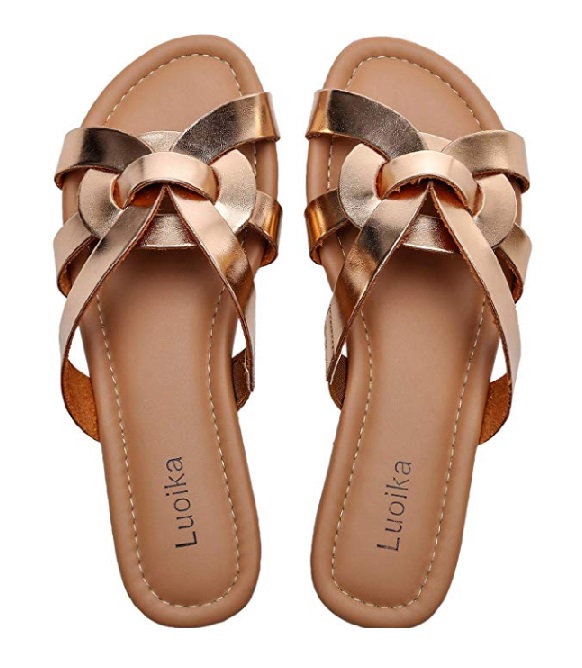 Gold YSL Tribute Slides Dupes HERE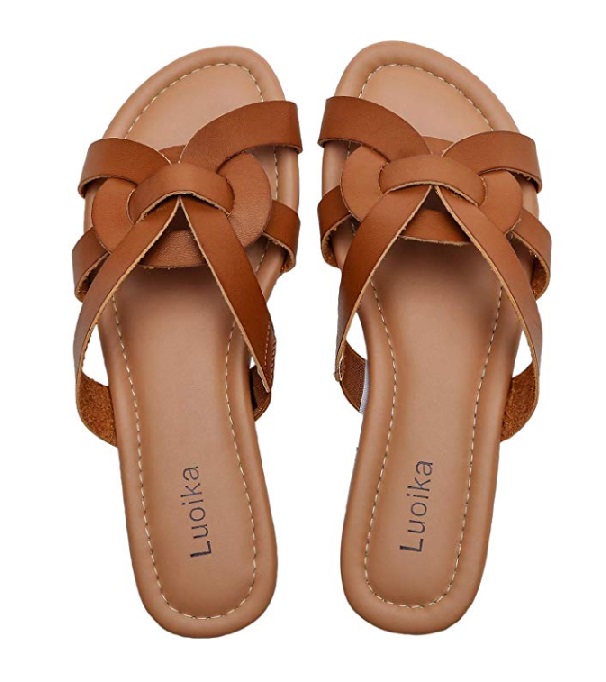 Brown YSL Tribute Slides Look-Alikes HERE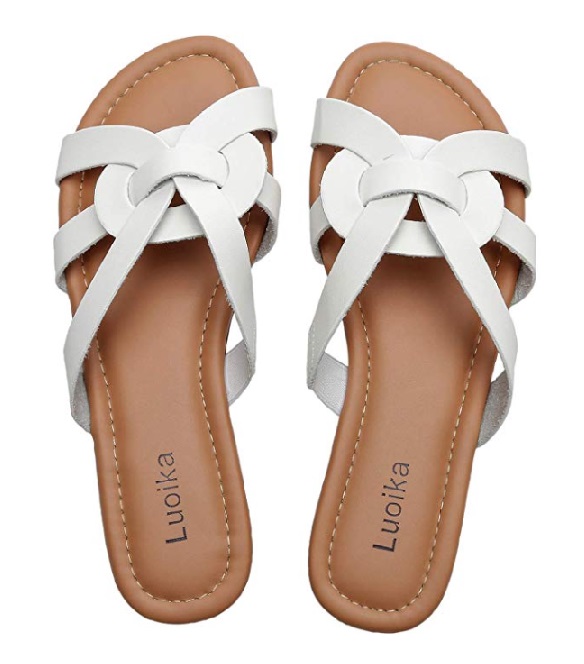 White YSL Tribute Slides Look-Alikes HERE
Related: YSL Tribute Sandals Dupes For WAY Less
All of these YSL Tribute slides dupes are just amazing, aren't they? You can clearly see the resemblance they have to the real Saint Laurent slides. They might not offer the same genuine leather design, yet they have the same Tribute style!
These slides certainly don't look like your average slip-ons! They are chic, sexy with a timeless design that is bound to last forever. Not only these Saint Laurent Nu Pieds dupes have an inspired design by the original YSL Tributes but they also come at a very affordable price!
Yes, some of these slip-ons will cost you just under $20! Moreover, you can choose from plenty of colours! If you don't fancy the classic black or white slides, then some printed styles might float your boat!
Especially during summer, printed shoe styles are trending like crazy. You can match them with jeans, skirts, dresses, even suits! Yes, I know it might not look very professional but it will be extremely comfortable, I can tell you that!
If you're on the hunt for some genuine leather YSL Tribute slides dupes, then the UK offerings are the ones to go for! The slides are made from soft leather lining and are made in the country of pasta! Yes, they are produced in Italy and I absolutely love that. It just says of how good the quality is going to be.
Saint Laurent Slides Alternatives from Retailers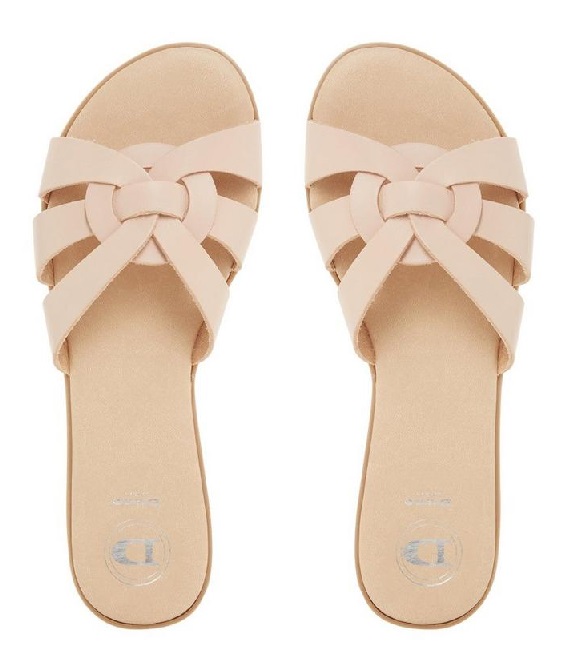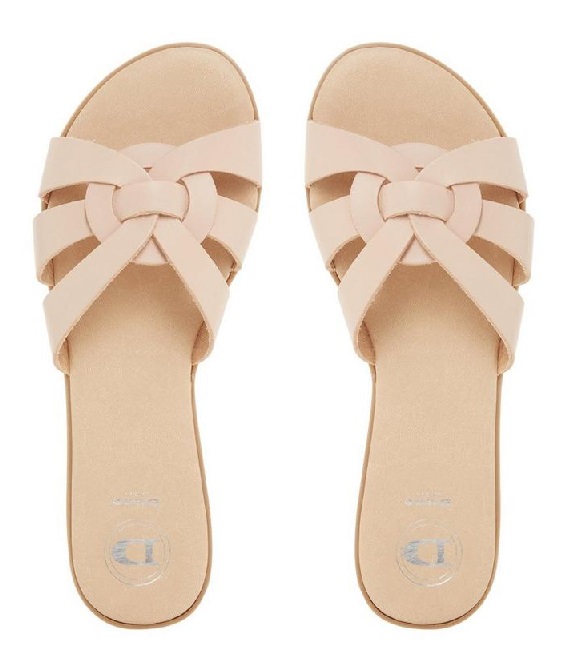 Dune Lemonia – Blush Woven Strap Slider Sandals HERE
Made from genuine leather, Dune also offers an amazing pair of YSL Tribute look-alikes. Available in pink, black and white, these slides are currently selling at half of their original price. Although I'm not a fan of the black slip-ons, the Dune black woven strap sliders are absolutely amazing. They don't have that deep dark black colour but more of a dark olive one! I actually really like that as it gives the slip-ons a little bit of identity compared to the other styles!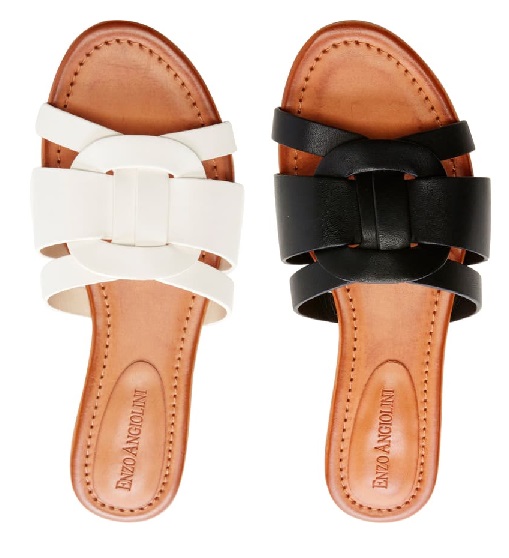 Enzo Angiolini Golda Slide Sandals HERE (+ more colours!)
Enzo also offers some incredible Saint Laurent Nu Pieds dupes! With smooth leather straps interwoven atop the vamp of the breezy slide sandal, you can choose from black, white, brown and pink styles. Of course, you can opt for the classic black and white colours, yet the brown is really making headlines! It will look gorgeous with light denim or white maxi dress. Best of all, these YSL alternatives are with 40% off their original price! You can actually treat yourself to two pairs!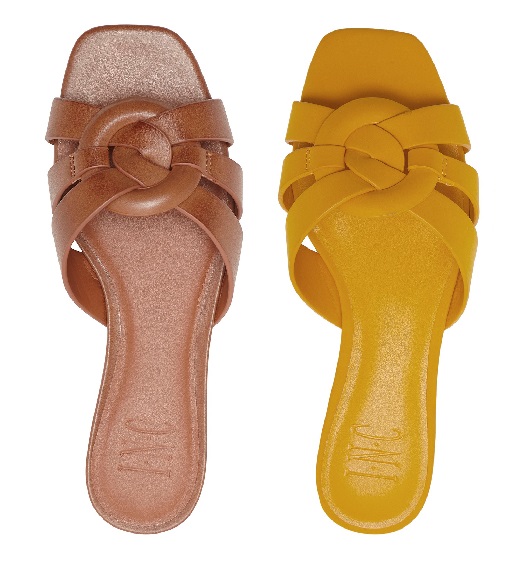 Gargi Knot-Front Woven Slide Sandals HERE (+ more colours!)
Specially created for Macy's these Gargi slide sandals from I.N.C. International Concepts have straps weave and crisscross with oversized ring hardware for a handsome finish. With a manmade upper and sole, you can get these Saint Laurent alternatives in a range of colourful styles!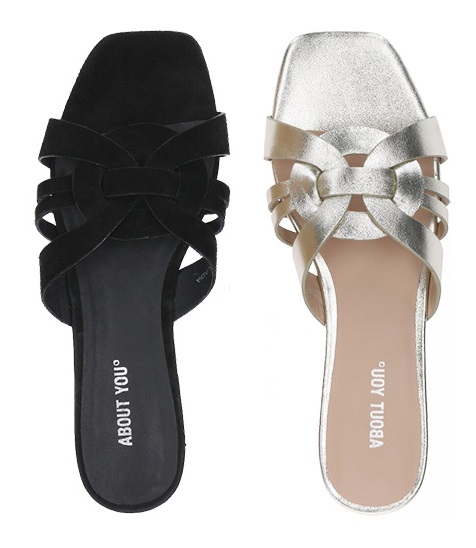 About You Pantolette 'Chantal' HERE (+ more colours!)
Apart from the silver style, the rest of Saint Laurent slides look-alikes are primarily made in suede material. Personally, I wouldn't go for suede slides in the spring or summer months, yet the choice is absolutely yours! For just under $50, you can get a suede version of your dream YSL Tribute slides!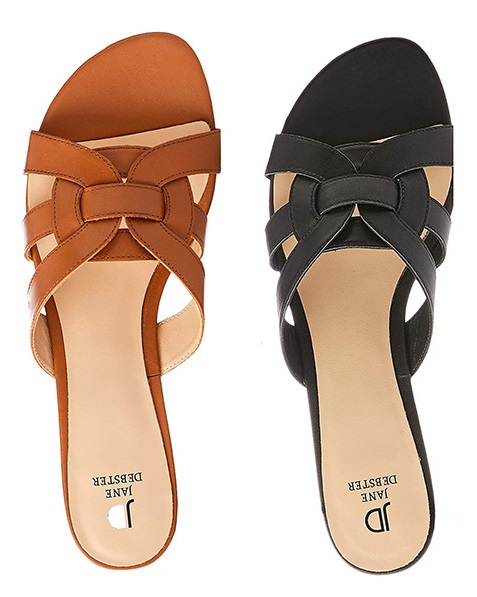 The Iconic Jane Debster Tegan Sandals HERE (+more colours!)
Australian brand Jane Debster also offers some exciting YSL Tribute look-alikes. At the moment, they are selling for just under $100! Considering the fact that you'll be buying genuine leather slip-ons, then the price tag is actually extremely affordable. Don't you think?
Accepting that you'll have to spend at least $500 for a pair of slip-ons, would you buy the original Saint Laurent flats or opt for one of the many YSL Tribute slide dupes?
Don't forget to check the YSL category for more designer dupes and my Amazon store page!
YOU MIGHT ALSO ENJOY:
Valentino Rockstud Espadrilles Dupes You Need To See!
Chanel Espadrilles Dupes That Rival The Original
Affordable Valentino Flat Sandals Dupes | Save vs Splurge
Valentino Rockstud Mules Dupes | Steal The Real!
Amazing Hermes Oasis Sandals Dupes You Need To See!