Although Yves Saint Laurent has been officially re-named as just Saint Laurent when Hedi Slimane took over the brand in 2013, the Tribute sandal made its debut in 2004. Thus, I'm still referring to this iconic platform as the YSL Tribute sandal. Just in case you've been wondering, today I'm going to present you with the best YSL Tribute Sandals dupes that you can get for way less!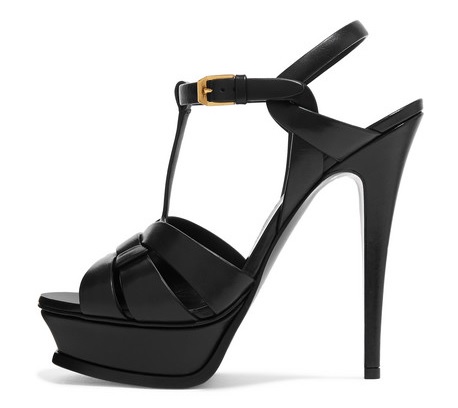 Saint Laurent Tribute Leather Platform Sandals HERE | $925
The shoe's distinctive strappy look and longevity mean it is instantly recognizable as an iconic designer shoe. No wonder that the strappy platform has been a favourite among many celebrities and fashionistas. Even though it's been available since 2004, the Tribute is still one of the most sought-after shoes!
It is available in a range of colours – from the casual black to stunning gold-tones beauties. I know that plenty have been drooling over these stunners for quite some time, otherwise you wouldn't be here! One thing that might have stopped you from getting a pair of the iconic platforms is the price tag.
Costing nearly $1,000, the Saint Laurent Tribute heel are hardly going to fit within your budget. Gladly, there are plenty of affordable alternatives out there that are just as good as the original!
Ahead, the best YSL Tribute sandals dupes and alternatives you can get right now from Amazon and other online retailers.
The Best YSL Tribute Sandals Dupes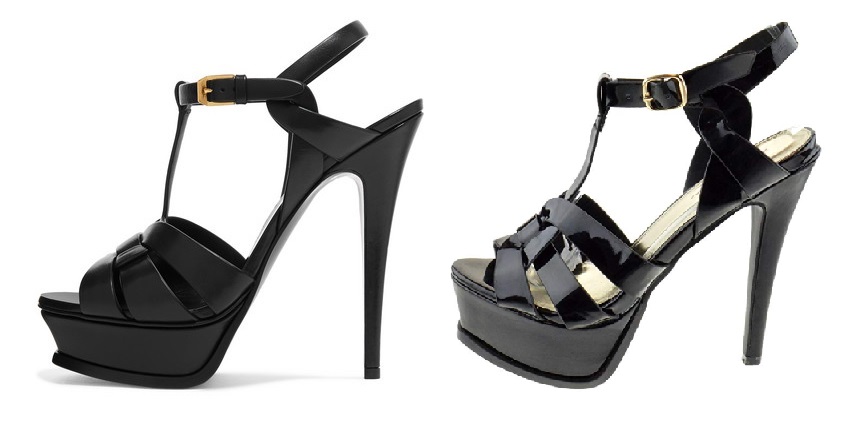 Black Saint Laurent Tribute Leather Platform Sandals HERE ($925) | Black YSL Tribute Sandals Dupes HERE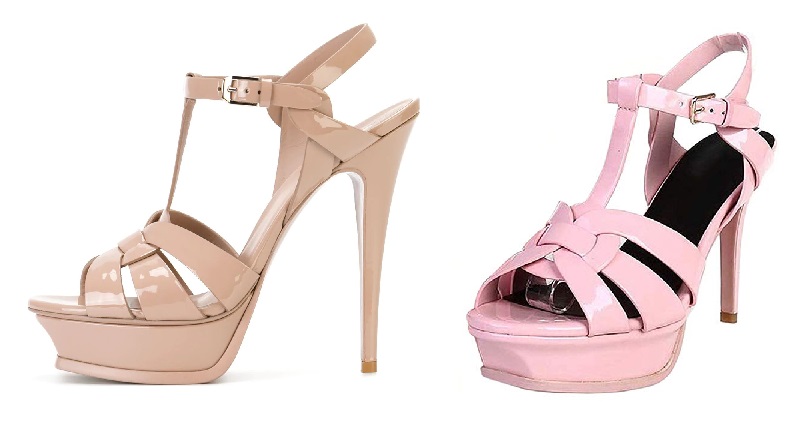 Nude Saint Laurent Tribute Leather Platform Sandals HERE ($895) | Pink YSL Tribute Sandals Dupes HERE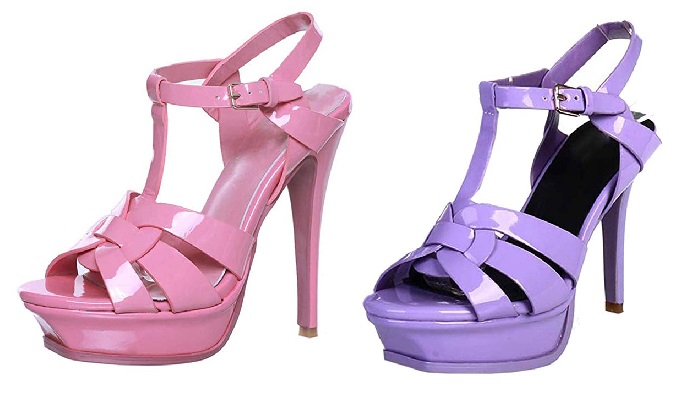 More YSL Tribute Sandals Dupes HERE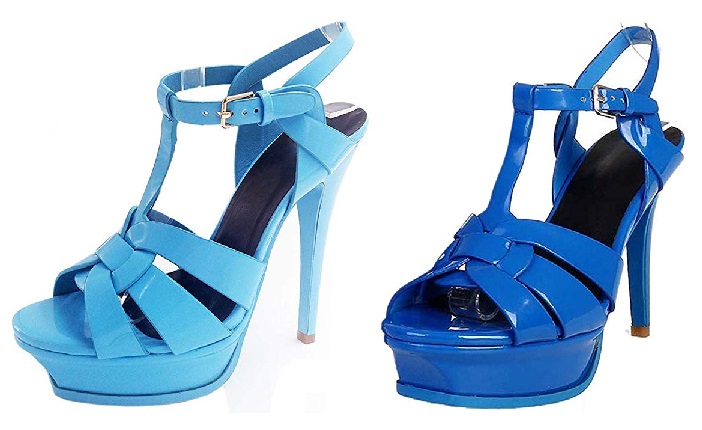 Blue YSL Tribute Sandals Dupes HERE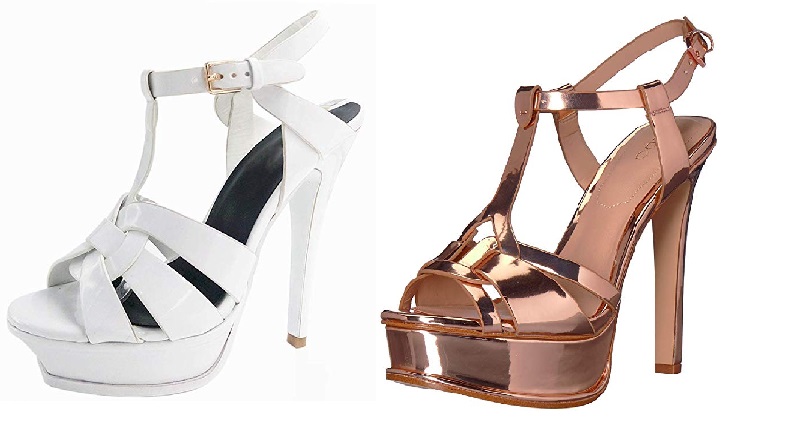 Even more YSL Tribute Sandals Dupes HERE (US) & HERE (UK)
Related: The Best YSL Tassel Bag Dupes Under $50!
Whenever I try to find the best designer dupes, I always have a look on Amazon. The online giant has literally everything. It was no wonder that once again I managed to discover plenty of YSL Tribute sandals dupes!
At the moment, they'll only cost you $66 which a true bargain, considering the designer's price tag. The available colours are – black, different shades of pink and blue, yellow and white styles. Personally, I would love to get my hands on a pair of nude Tributes. Sadly, I couldn't find any on Amazon.
Compared to the original Saint Laurent sandals, I find these dupes to be slightly bulkier. If that makes sense?! The straps and heels look thicker, which is not a bad thing as they'll probably give you more support.
These sandals are perfect for any occasion. Wear them during the day with a pair of jeans and let the platforms shine. Otherwise, put a pleated midi skirt in the evening and go for a cocktail with the girls!
Saint Laurent Tribute Look-Alikes from Retailers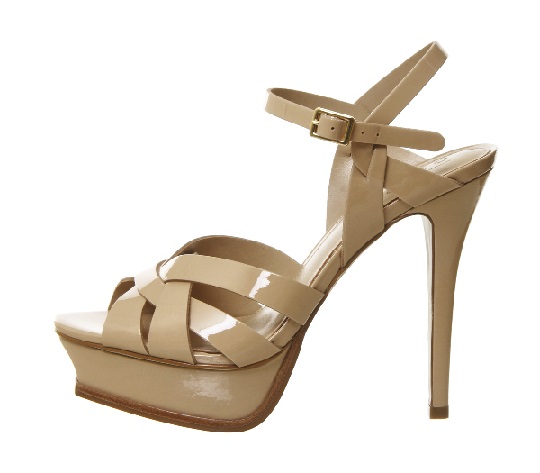 Office Nostalgia Platform Heels Nude Patent Leather HERE | $92
I know that I might sound like an Amazon representative but when I find something better, I always give credit! These patent leather heels are the perfect nude alternative to the YSL Tribute sandal.
They will cost you nearly $100 but they are definitely worth the price. Even with the 12cm high heel, customers couldn't be happier with how comfortable they actually are!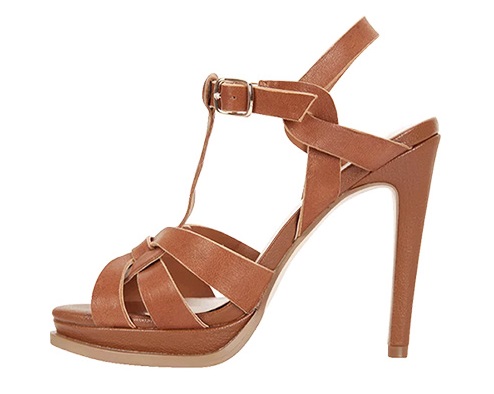 The Iconic Pink Inc Empire T-Strap Platform Sandals (+ more colours!) HERE | A$179.95
The Iconic is an Australian website that offers quite affordable designer alternatives. I found a few YSL Tribute look-alikes on their website. Sadly, the sandals are not made from the shiny patent leather, yet they still have that Tribute vibe. I actually prefer the leather upper in this pair as it will go even better with a pair of jeans.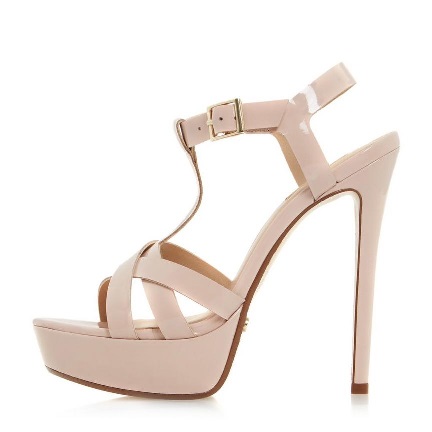 Dune Lattice T-bar Platform Sandal HERE | $54
Dune also offers an affordable alternative to the Saint Laurent Tribute sandal. available in my favourite nude colour, the pair is currently selling for $54, down from $135. There is also a black option, unfortunately, it is out of stock at the moment. Keep an eye on the site as they might re-stock it, you never know!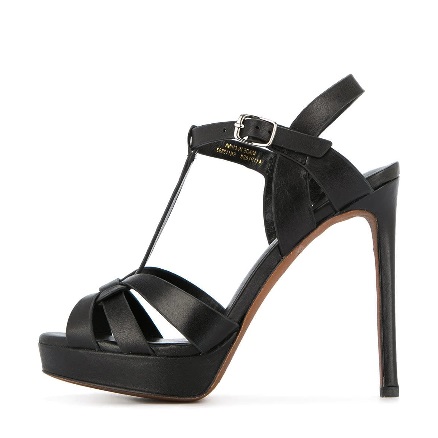 The Shoe Box Lola Cruz Platform Stiletto Cruz HERE | $240
Now, this is a quite expensive pair of YSL Tribute sandals dupes, yet these stunners are made from calf leather. Although you might not be a fan of genuine leather, you can be certain of the durability of the material. Compared to the synthetic options, these platforms will probably last forever! Thus, $240 might actually be a bargain, if you think about it.
Why Get a Pair of YSL Tribute Sandals?
Well, if you're one of the lucky readers that are quite comfortable with spending nearly $1,000 for a pair of YSL Tribute sandals, then I highly urge you to do so!
As mentioned briefly in the beginning, the Tribute has been the brand's iconic footwear ever since its debut in 2004. Under the vision of then-creative director Stefano Pilati, the platform sandal became an instant hit. It even reached cult status!
With their classic design, the Tribute sandal will never go out of style! Moreover, the platforms are effortlessly chic and sexy. You can wear them with literally everything – from jeans to skirts, dresses and suit!
In terms of specifications – the maximum heel height currently available is 5.5 inches; the lowest – 4.1 inches. As for the platform height – it is either 1.2 inches or 1.4 inches. Yet, don't let that scare you! Although the Tribute has a very high heel, it is extremely comfortable! If you don't believe me, google it.
Although my favourite colour is nude, new shades are added every season! Apart from the safe black choice, there are even funky colours such as hot pink or crocodile print. The YSL Tribute is also available in suede, printed and stamped leather, patent leather and even denim.
So, if you have an extra $1,000 just sitting in your bank account, then get a pair of the iconic Saint Laurent sandals!
Otherwise, you can get one of the many YSL Tribute sandals dupes and alternatives, featured in this post!
If you're looking for more designer dupes, check out my Amazon shop page!
YOU MIGHT ALSO ENJOY:
Get The Best Louboutin Kate Pump Dupes For Less!
Valentino Rockstud Block Heel Dupes | Steal The Real!
Incredible Jimmy Choo Sandals Dupes For Less!
Aquazzura Wild Thing Sandals Dupes You Need To See!
The Best Manolo Blahnik Hangisi Dupes Under $70!