I must admit that I'm not a huge fan of espadrilles but they are quite comfortable! Not only that but they are also the perfect Spring/Summer shoe for every occasion! Speaking of espadrilles, what do you think about the Valentino Rockstud espadrilles? Well, like it or not, today's post is going to be about the most affordable Valentino Rockstud espadrilles dupes you can get right now!
The Valentino Rockstud rage is perhaps one of the most sought-after shoe collections in the world. I guess it was no surprise that Valentino managed to make this line not only extremely fashionable but also timeless.
The shoes have a simple yet effective rockstud design, taking your outfit onto the next level. The Rockstud shoe range features not only espadrilles but also flats, high-heels and boots! Thus, you're bound to fall in love with at least one of the designs.
Apart from the rock 'n' roll shoes, Valentino also produces handbags featuring the famous rockstud design. Although those handbags are definitely more expensive, the espadrilles are not cheap either. With a price tag of above $600, you might want to think twice before you invest in the designer pair.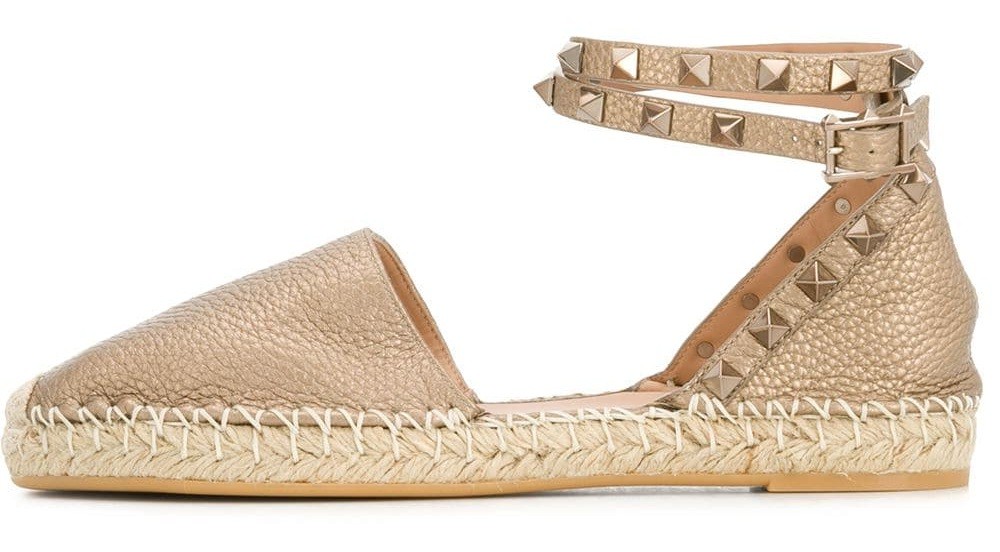 Valentino Garavani Rockstud Espadrilles HERE | $655
If you're happy to spend $600, then go ahead!
Otherwise, you can opt for one of the many Valentino Rockstud espadrilles dupes below!
Valentino Rockstud Espadrilles Dupes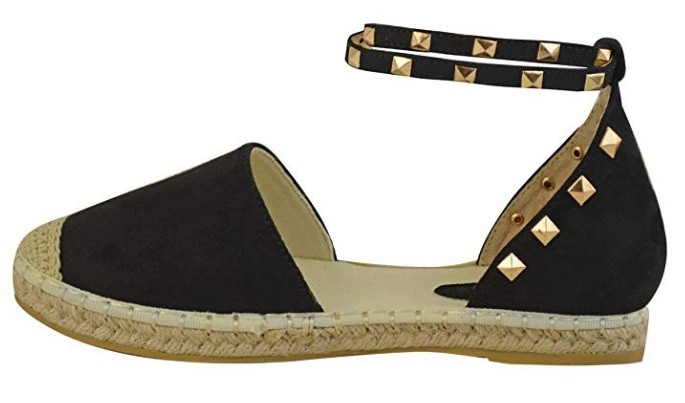 Black Flat Valentino Rockstud Espadrilles Dupes HERE (UK) & HERE (US)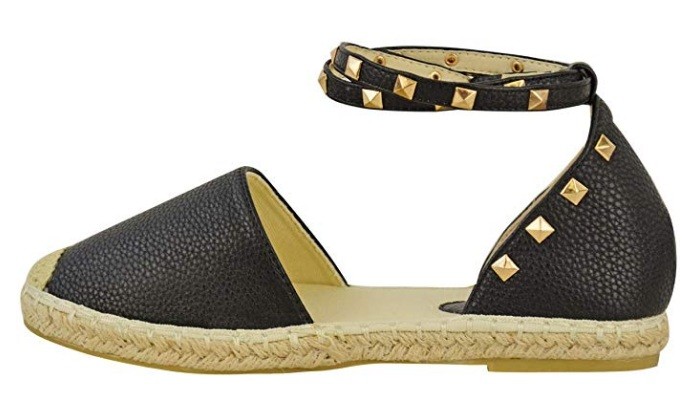 Black Flat Suede Valentino Rockstud Espadrilles Dupes HERE (UK) & HERE (US)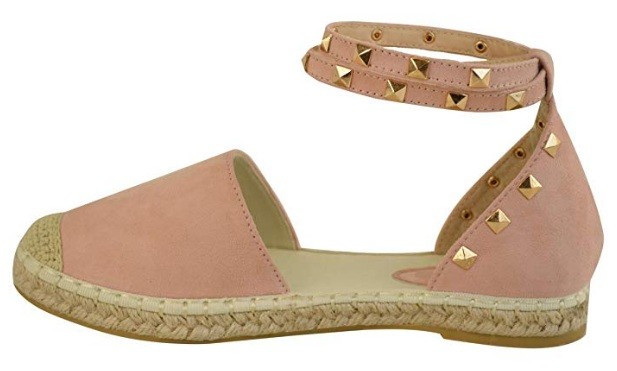 Pink Flat Suede Valentino Rockstud Espadrilles Dupes HERE (UK) & HERE (US)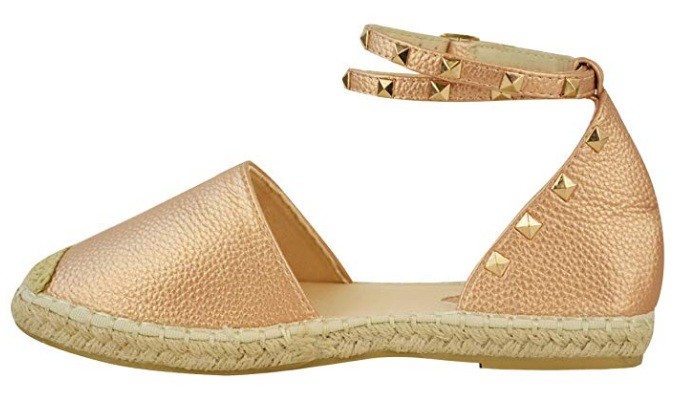 Gold Flat Valentino Rockstud Espadrilles Dupes HERE (UK) & HERE (US)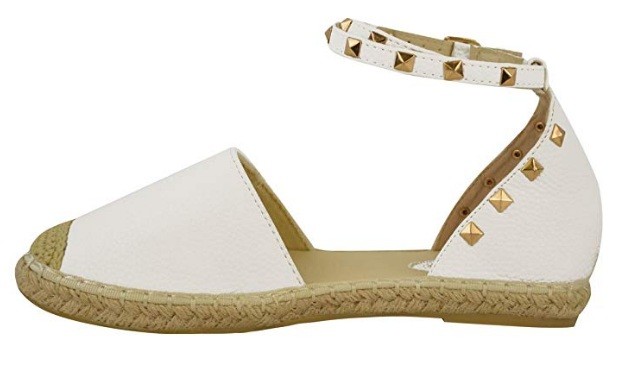 White Flat Valentino Rockstud Espadrilles Dupes HERE (UK) & HERE (US)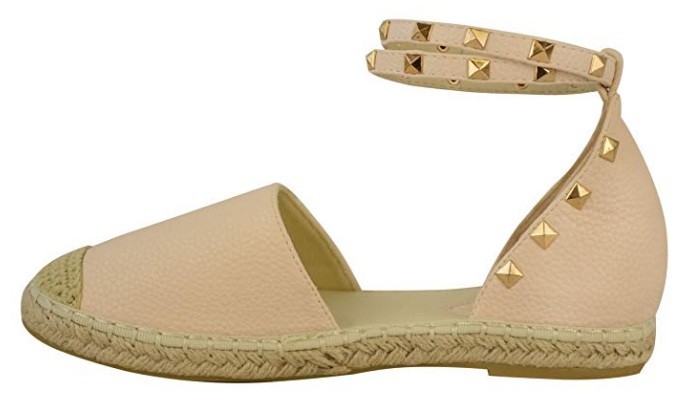 Nude Flat Valentino Rockstud Espadrilles Dupes HERE (UK) & HERE (US)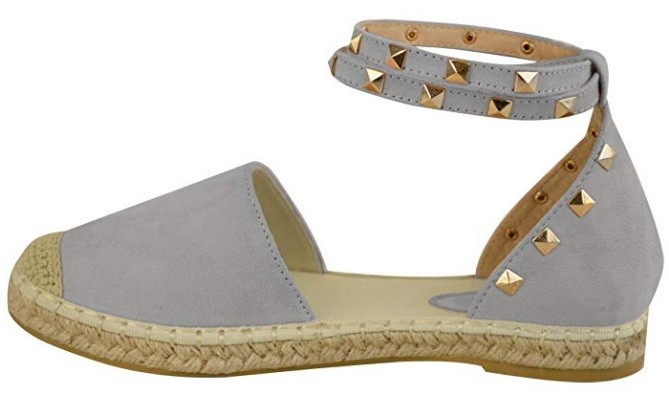 Grey Flat Valentino Rockstud Espadrilles Dupes HERE (UK) & HERE (US)
Related: Valentino Rockstud Ballerina Dupes | Steal The Real
If you've been a regular follower, you'd know that I absolutely love Amazon! You can find everything there – from books, gadgets, everyday essentials all the way to designer dupes!
Today was no exception either! I stumbled upon some incredible Valentino Rockstud espadrilles dupes that could rival the original. Although these studded espadrilles are not made from leather, they are made from a highly durable synthetic sole.
There are faux suede and leather options. Personally, I would go for the leather styles. They look a tad more stylish compared to the suede version. The pink and white Valentino look-alikes are my favourites. They would great with a spring floral maxi dress!
Apart from a slight difference in the sizing and some colour variations, customers are pretty happy with their purchases. And why wouldn't they be? At the moment, you can get a pair of these Valentino espadrilles dupes for just under $25!
Rebecca Minkoff Gilles Espadrilles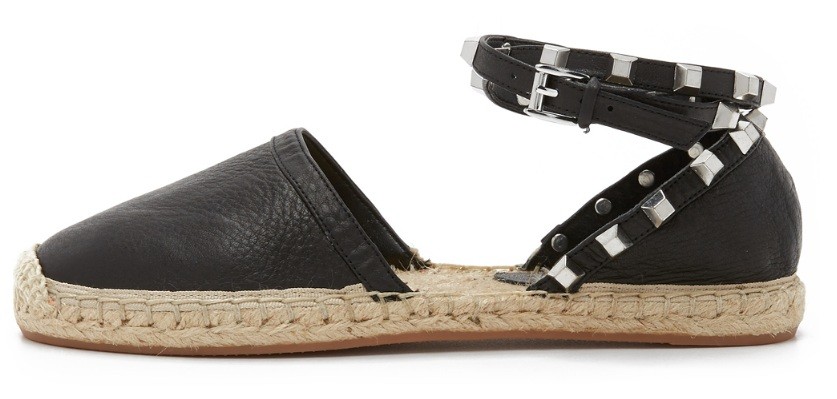 Rebecca Minkoff Gilles Espadrilles HERE | $175
Well, Rebecca Minkoff might be slightly above your budget but these espadrilles are definitely worth it! The metallic studs give an edgy feel to these leather Valentino espadrilles alternatives. With a buckled ankle strap, braided jute sidewall and rubber sole, your feet will thank you after a long day in high heels!
Unfortunately, at the moment, the only available style is the black pair. Yet, they can be the perfect finish to a casual jeans and tee outfit. Although they'll cost nearly $200, you do get high-quality leather espadrilles. Moreover, they'll last you way longer than the cheaper synthetic alternatives.
Halogen 'Dylan' Espadrille Flat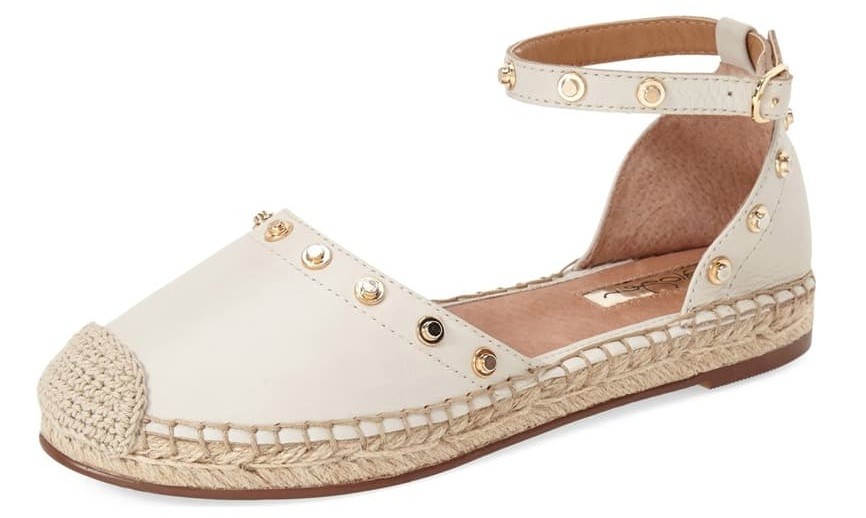 Halogen 'Dylan' Espadrille Flat HERE | $125
Nordstrom is also a favourite of mine when it comes to finding affordable designer dupes. These leather espadrilles are not quite dupes; yet, they do offer a strikingly similar design and feel to the original Valentino design.
Made from genuine leather and adjustable ankle strap, these Valentino Rockstud look-alikes are available in both cream and black colours. Sadly, they don't offer the studded design of the original espadrille. However, they do look stunning and if you're not willing to draw attention with a dupe pair, then these Valentino alternatives are just for you!
The cream Halogen espadrilles would go lovely with a white midi dress, whereas the black always goes hand in hand with jeans!
So, what do you think of the above Valentino espadrilles dupes?
Would you be willing to say goodbye to a good $600 or opt for an alternative and save some money?
If you're looking for more designer dupes, check out the main category!
For more Valentino dupes, click here!
For other designer dupes, make sure to check out my Amazon Store Page!
YOU MIGHT ALSO ENJOY:
Affordable Valentino Flat Sandals Dupes | Save vs Splurge
Valentino Rockstud Block Heel Dupes | Steal The Real!
Valentino Rockstud Mules Dupes | Steal The Real!
Amazing Valentino Rockstud Heels Dupes | $995 vs. $52!
Chanel Espadrilles Dupes That Rival The Original