I must admit that Tiffany is my absolute favourite jewellery designer! Their bracelets, necklaces and rings are not only gorgeous but also quite affordable. Well, if you're looking to buy an engagement ring, you'll still have to cough up at least $5,000. Yet, there are plenty of other jewellery pieces that are quite affordable. Speaking of jewellery, today's post is going to be about Tiffany Love Knot dupe!
Sadly, the Love Knot collection is nowhere to be found! It is no longer available on the Tiffany website. Moreover, I couldn't even find used items on any of the well-known designer reseller websites. Thus, I couldn't possibly let you know where you can get the famous Love Knot bracelet nor what the price tag is!
However, based on the other bracelet collections from Tiffany, you'll be probably looking at spending at least $800! I figured that this post would come quite handy if you're looking to get a cheaper alternative of the beautiful Love Knot jewellery.
Representing eternal love, the original Tiffany bangle features a heart-shaped knot in white gold and gold ball detail. It's the perfect gift to give to the person you love and cherish. Sadly, as it is no longer available, you might want to go with one of the many designer alternatives in this post!
Ahead, you'll find Tiffany Love Knot bracelet dupes and other inspired jewellery pieces at a fraction of the price of the original!
Tiffany Love Knot Bracelet Dupes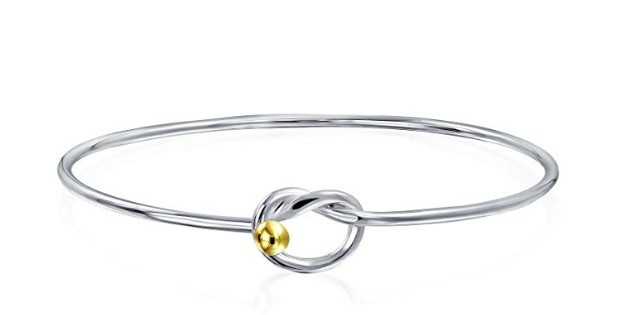 Tiffany Love Knot Bracelet Dupes HERE (UK) & HERE (US)
If you've seen the Love Knot bangle from Tiffany, then your jaw must be dropping right now! This incredible bracelet couldn't look any more identical to the original designer one! At the moment, you can get this Love Knot dupe for just under $30. It's made from sterling silver, thus you'll be getting a high-quality product. It also features the small gold ball at the front. Although it's just gold-plated, it'll still last quite sometime before wearing off.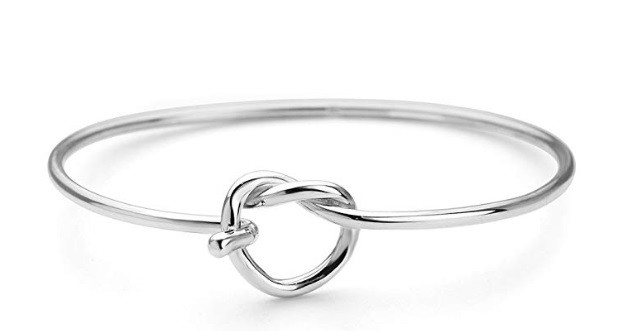 Silver Tiffany Love Knot Bracelet Dupes HERE
I also came across another sterling silver Tiffany Love Knot bracelet dupe! This one will cost you around $50, however, it's an all silver bangle. There are no gold-plated details, meaning you won't have to worry about any wears and tears. So why not get this lovely Tiffany dupe as a present for yourself or a special someone?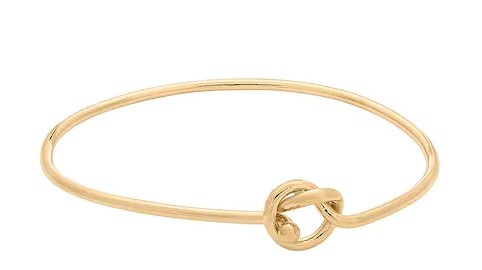 Gold Tiffany Love Knot Bracelet Dupes HERE
If you're willing to splurge a little bit more on a bracelet, then this Love Knot bangle might be just what you've been looking for! It's made from 14k gold on sterling silver and it is pretty much identical to the Tiffany bangle. You'll also be pleased to know that the price tag has dropped to $60 from $150!
Related: The Best Tiffany T Bracelet Dupes That Rival The Real One
Tiffany Inspired Love Knot Look-Alikes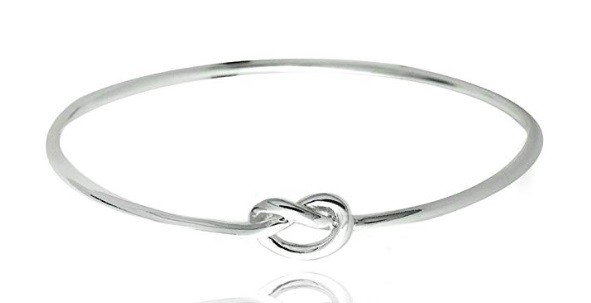 Tiffany Inspired Love Knot Look-Alikes HERE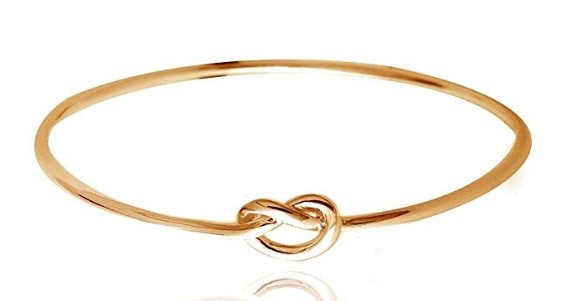 Inspired Love Knot Bracelet Look-Alikes HERE
These Tiffany Love Knot look-alikes are not complete dupes but rather inspired by the designer version. They are currently selling at $39.99 on Amazon. Made from sterling silver, the bracelets are available in silver, gold and rose gold colours. I'm not sure what the size is, but you can always send a quick message to the reseller. Otherwise, just go ahead and get one of these Love Knots. If it doesn't fit, you can always return it, just make sure there is 'free return policy' in place!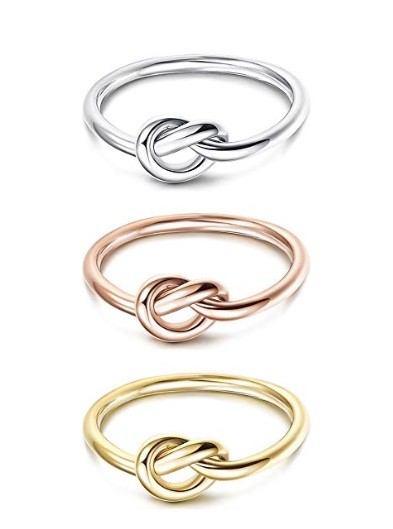 Tiffany Love Knot Inspired Rings HERE
Another Tiffany inspired set of jewellery comes in the form of rings! These Love Knot rings look just like the bracelet but in a smaller ring-sized version. With a price tag of $9.99, you get all three rings! Yes, you read that correctly. You're getting the silver, gold and rose gold rings for just under $10. With its simple, yet beautiful design, you can wear these Love Knot inspirations on their own or stack them!
So, what's your take on the above Tiffany Love Knot dupes?
Keeping in mind that the Love Knot collection by Tiffany is no longer available, would you be tempted to get one of the above alternatives?
If you're looking for more Tiffany dupes, check out the main category here!
YOU MIGHT ALSO ENJOY:
Cartier Love Bracelet Dupes You Can Actually Afford!
Celine Bamboo Alphabet Necklaces Dupes Under $15!
Your Guide To The Best David Yurman Bracelet Dupes
Incredible Cartier Love Rings Dupes | Cartier Dupes
Your Guide To The Cartier Love Collection Dupes