Mansur Gavriel is an NYC-based luxury design label founded by Rachel Mansur and Floriana Gavriel in the spring of 2012. Although the brand designs everything from ready-to-wear items to small leather goods, perhaps it is most famous for its bucket bags. And surprise, surprise, today's post is going to be about the best affordable Mansur Gavriel bucket bag dupes!
Before that, though, let's take a brief look at the original one, shall we?
As I briefly mentioned, the designer duo also designs clothes and shoes but the brand first launched with Italian made women's handbags. Their bucket bag selection is Mansur Gavriel's most sought-after item. Moreover, when the collection was first introduced, it was instantly sold out!
Although the bucket bag design was initially designed by Coach, it is Mansur Gavriel that brought it back to life. The brand's minimalistic, chic and luxe design has won the hearts of A-listers worldwide. Alessandra Ambrosio and Miranda Kerr have been spotted with one while out and about in a pair of jeans or a summer dress!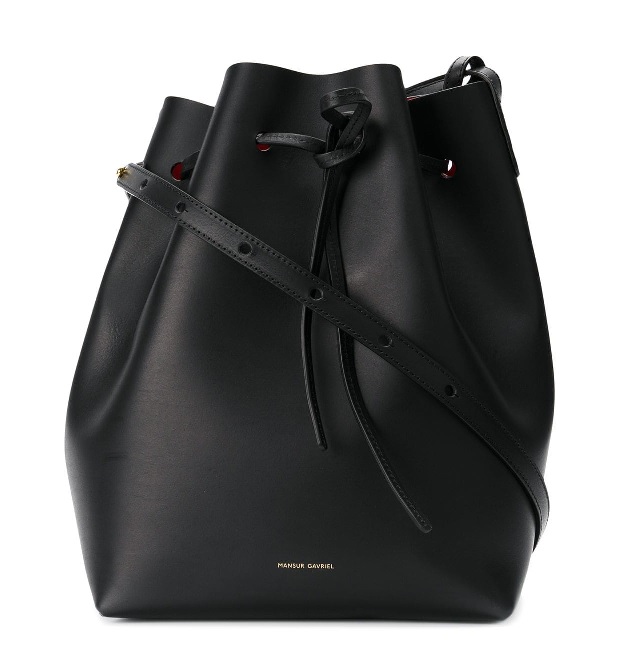 Black Mansur Gavriel Bucket Bag HERE | $595
If you've been wanting this particular bag but the not so budget-friendly has been stopping you from getting one, then you might want to consider a more affordable alternative!
Ahead, I've found some amazing Mansur Gavriel bucket bag dupes and look-alikes!
Mansur Gavriel Bucket Bag Look-Alikes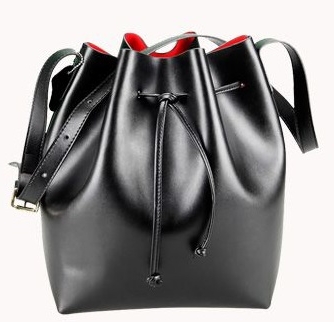 Leather Mansur Gavriel Bucket Bag Look-Alikes HERE
Sure, the original Mansur Gavriel bucket bag is absolutely stunning but what about this designer look-alike? It's available on BagInc for $109 and you get it in calf leather. To be honest with you, I think I actually prefer this bag instead of the designer one. Personally, I love shiny smooth leather and this black Mansur Gavriel dupe has that shine that I'm looking for! If you're also a fan of smooth leather, you'll be happy to find out that this bucket bag is available in other colours as well.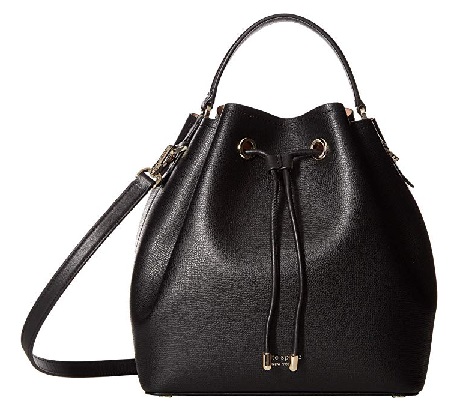 Mansur Gavriel Inspired Kate Spade Bucket Bag HERE
Another fabulous alternative to the Mansur Gavriel bucket bag is this Kate Spade design. Despite not being made from my favourite smooth leather, you'll still be buying a genuine leather bag! Of course, if you're familiar with Kate Spade, you'd know it's not the cheapest. You'll be looking to spend around $250 but at least you're getting a designer item.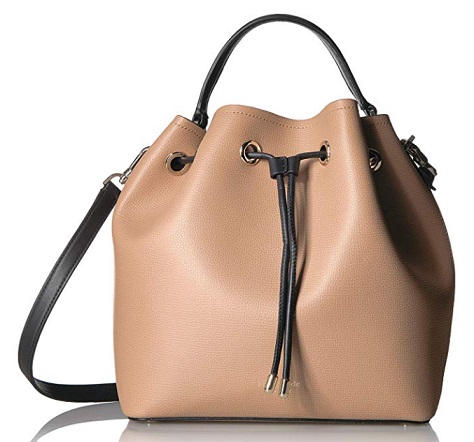 Beige Mansur Gavriel Bucket Bag Alternative HERE
Read next: Celine Box Bag Dupes | 9 Amazing Designer Alternatives
I've also decided to include the beige version of Kate Spade's bucket bag as I really like the contrast between the two colours. There are also blue and yellow alternatives but this one caught my eye. Actually, if you also prefer this colour, I have a surprise for you! It's actually the cheapest – priced at $195! Still made from cowhide leather, no hidden costs and charges. If you're looking to add a bit of contrast into your wardrobe and save money, then get this beautiful Mansur Gavriel bucket bag look-alike!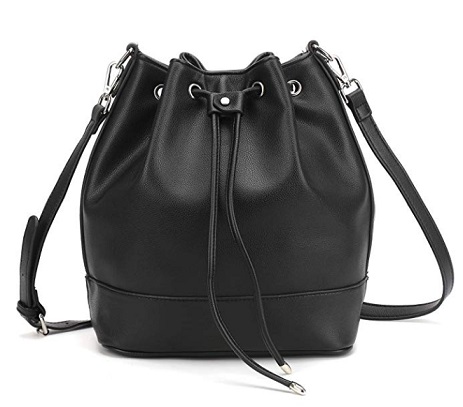 Mansur Gavriel Bucket Bag Look-Alikes HERE
I also stumbled upon this black bucket bag from Amazon. You can definitely spot the resemblance with Mansur Gavriel's bag. From the shape to the drawstring closure, you can say it's been inspired by the designer's bucket bag. Truthfully, I didn't really like it at first but the more I looked at it the more I fancied having one. Compared to the rest of Mansur Gavriel alternatives, this bag is made from vegan leather. You can get it for under $30 and it's also available in beige, pink and red colours.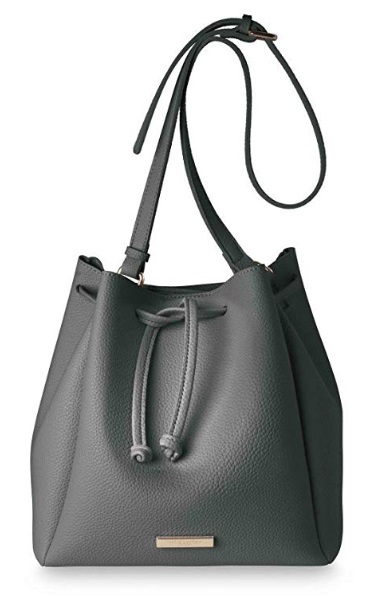 Grey Mansur Gavriel Bucket Bag Alternative HERE
Just in case you don't actually like any of the Mansur Gavriel look-alikes, I thought I should include a completely different option. This designer alternative doesn't quite have the same design, yet is still a bucket bag! So, if you fancy a bucket bag, just not one that looks like the Mansur Gavriel one, then you have this option.
Mansur Gavriel might still be a newbie in the fashion industry but it has made a statement with its bucket bags!
If you're also a fan of the NYC-based female designer duo but can't afford the luxury of owning one of their fabulous bags, then opt for one of the many affordable Mansur Gavriel bucket bag look-alikes!
For more designer dupes, check out the main category here.
Images Sources: Amazon, Farfetch, BagInc
YOU MIGHT ALSO ENJOY:
Celine Trapeze Bag Alternatives You'll Want To Have
Mulberry Bayswater Dupes Under $60 | Save vs Splurge
Celine Luggage Tote Dupes | Luxury For Less
Longchamp Le Pliage Tote Dupes That Rival The Original!
5 Incredible Loewe Puzzle Bag Dupes Under $35!