I think we can all comfortably say that 2018 is the year of the 'Gucci gangs'. Although I really dislike this slang statement, I must admit it is accurate. Gucci has established itself as one of the huge players when it comes to fashion. Be it clothes, shoes or accessories, it has proven year after year to be one of the most adored and highly-praised brands. Some might dislike the high-fashioned house for its funky choices when it comes to creating clothes, but I think we can all agree that there is nothing better than a fine Gucci handbag. The bags are always in demand and celebrities in the likes of Kendall Jenner, Angelina Jolie and, (YES, the Queen! No, not Elizabeth II) Beyonce have a soft spot for these fine pieces of fashion art.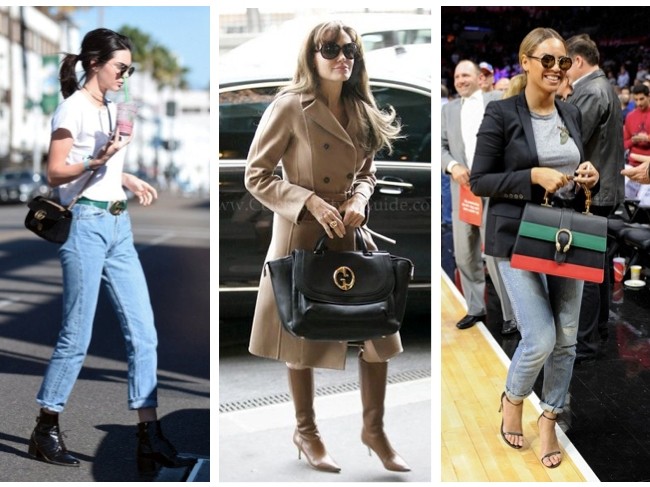 Yet, having in mind that the cheapest pieces come in just under $1000, while some of the highest, limited versions, over $3000 – they don't really scream affordable. Thankfully, poor souls like us will always have the option to get a similar version of our favourite Gucci bag.
Ahead, 6 of the best Gucci bag dupes:
The Best Gucci Bag Dupes

GUCCI Dionysus Velvet Bag ($1,690) HERE (US & UK) | GUCCI Bag Dupes HERE (UK) & HERE (US)
GUCCI Dionysus Bag ($3,980) HERE (US & UK) | GUCCI Bag Dupes HERE (UK) & HERE (US)

GUCCI Marmont Medium Bag ($1,690) HERE (US & UK) | GUCCI Bag Dupes HERE (UK) & HERE (US)

GUCCI Marmont Bag ($790) HERE (US & UK) | GUCCI Bag Dupes HERE (UK) & HERE (US)
GUCCI Sylvie Bag ($1,790) HERE (US & UK) | GUCCI Bag Dupes HERE (UK) & HERE (US)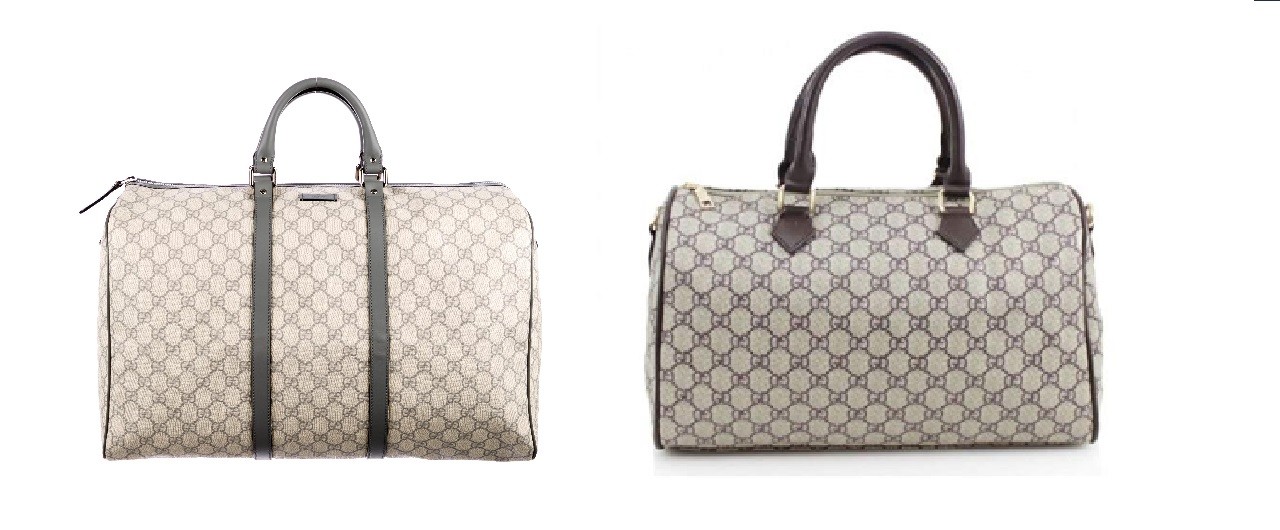 GUCCI Supreme Duffle Bag ($1,685) HERE (US & UK) | GUCCI Bag Dupes HERE (UK) & HERE (US)
The Gucci Bag History
Believe it or not, the brand Gucci as we know it today started as a leather travel bags, luggage and accessories shop. The founder Guccio Gucci, who I must admit didn't think would look like the long-lost twin brother of the Godfather, was inspired the upper class guests that visited the Savoy Hotel in London where he worked as a lift boy. He opened his first shop in Florence in 1921 and quickly shot to fame while selling leather bags to horsemen. With the fascist era in full mode it was harder to find high-quality leather, thus Gucci began making handbags with bamboo. That was also the time when the horsebit became the symbol of the fashion house. In the mid-1960s, the interlocking G's became another symbol to make the handbags we know today recognisable. By that time Gucci cemented its position in the handbag market as a status symbol thanks to Jackie Kennedy, who carried the now famous "Jackie O" handbag. In the 1970s, the design house added other fabrics such as satin for evening bags. And the rest, as they say, is history.
Modern-day Gucci Bags Styles
The Dionysus. This is one of the latest Gucci bag offerings and it is a unique piece with a lot of meaning. The embroidered versions of the handbags are inspired by the Greek mythology and the god Dionysus. The idea behind the tiger embroidery came from the myth that the son of Zeus transformed himself into a tiger to carry a young nymph across the river. Not matter what style you'll decide to go for, all Dionysus handbags have taupe canvas decorated with the iconic GG motif and the opulent silver-toned tiger heads to the front fastening. Make this staple piece part of your Fall wardrobe today!
SHOP the Dionysus range on Vestiare Collective and Selfridges.
The Marmont. This 70s glamour bag was the 2016 'it bag'. Thanks to Alessandro Michele the signature GG design buckle was brought back to life and new heights. Sturdy yet soft to the touch, the Marmont brings the perfect balance of feminine and masculine with its slouched silhouette and hard metallic. From plush velvet to supple calf leather, just pick your favourite material. There are also sizes galore – from a mini for a night out to a roomy tote for those hectic days when you need to shove your entire flat's belongings.
SHOP the Marmont range on Gucci and  Selfridges.
The Sylvie. After the Dionysus, the Sylvie is my second favourite Gucci handbag. Combining old and new all at one, the Sylvie pairs the classic Gucci visual signatures with a modern twist. The Sylvie's rectangular shape comes in different colours of leather and an option between a leather strap or a bi/tri-colour ribbon. The leather strap gives you that classic feel, whereas the ribbon adds a more feminine and ladylike touch. With camel microfiber lining, suede-like finish and smartphone pockets, the Sylvie will keep all of your essentials in place!
SHOP the Sylvie range on Farfetch and Net-a-Porter. 
The Supreme Duffle. When you're planning a quick weekend getaway or need to take some extra pieces with you, but they don't necessarily fill a whole suitcase, you grab a duffle bag. The idea of the Gucci Duffle Bag was inspired by the romantic escapism one feels when travelling with a loved one. The Supreme Duffle collection shouts vintage and fashion all at once. Moreover, it comes in leather with its iconic 'GG' canvas print all over, stands on four metal feet and unzips at the top. You have the option to select between various colour option and print designs, just pick one and take your weekend getaway to a whole new fashion level!
SHOP the Supreme Duffle range on Selfridges and Barneys.
There you have it – a brief Gucci handbag history. Whether you have an original or a Gucci bag dupe, each bag has its own unique design and shape that can elevate your whole outfit to give you that much-needed touch of glamour and sassiness. For those of you who can't afford to give their salary for a Gucci but love a good dupe, check 6 of the best Gucci bag dupes above.
Do you own a Gucci bag?
What's your opinion on the Gucci bag dupes?
Pst! Click here for more designer dupes!
YOU MIGHT ALSO BE INTERESTED IN:
The Best Celine Bags Dupes On The Market
Your Guide To The Cartier Love Collection Dupes
The Best YSL Tassel Bag Dupes Under $50!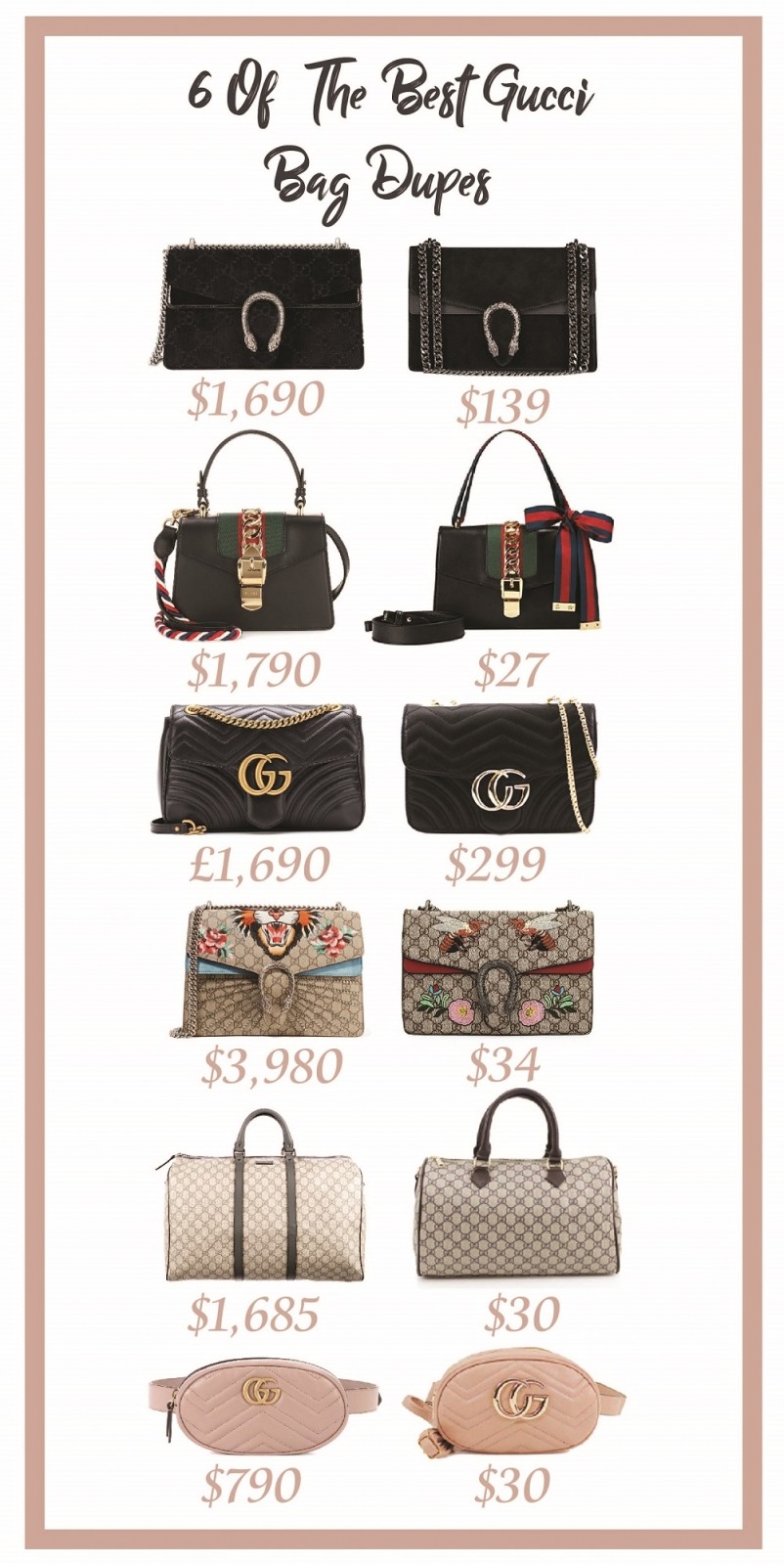 This post uses affiliate links!