I remember the very first time I got my very own pearl earrings. My grandmother gave a beautiful pearl set for one of my birthdays. I was probably 5 or 6, so I couldn't really wear them anywhere. The set had two pearl earrings and a matching necklace. I only wore them for special occasions or at home. The rest of the time I just enjoyed looking at them. As I was too young, I couldn't really appreciate their value. Now, however, I have a completely different mindset.
Pearl earrings can be a great touch to any outfit. Before, you couldn't really wear this type of jewellery, unless there was a special occasion. Nowadays, you can enjoy wearing pearl earrings no matter the occasion. Personally, I prefer to style my pearls with something smart but casual.
Depending on the design of the earrings, you can decide for yourself how to style them. The Dior Tribales earrings, for instance, are so beautiful and elegant that I wouldn't dare to wear them with anything else than a cocktail dress! These gold and palladium finish earrings feature a bold asymmetric effect with a tribal feel. Moreover, the small pearl rests on the ear while the largest peeps out subtly from behind the lobe. You can also wear them alone or as a pair. I've also seen bloggers pairing them with leather jackets! Actually, it turned out to be a great look!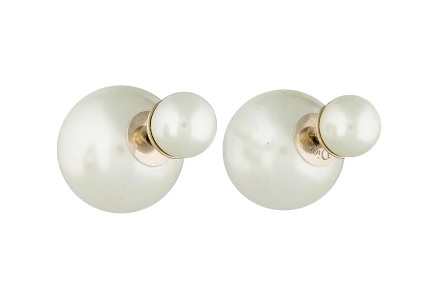 Christian Dior Mise En Dior Tribal Pearl Earrings HERE | $645
Although beautiful, the Mise en Dior are quite expensive! Thus, if you don't want to spend that much for earrings, you might want to check out the affordable Dior Tribal earrings dupes and look-alikes in this post!
Dior Tribales Earrings Dupes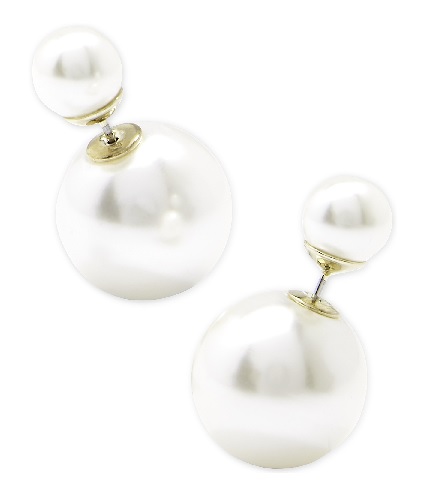 Gold-Tone White Pearl Dior Tribales Earrings Dupes HERE
These versatile front-and-back earrings by Zenzii are available on Macy's for $20. The differently sized double ball pearl design resembles Mise en Dior earrings. Also, you can get them in black. Unfortunately, you're getting real pearls for that price, yet these are pretty gorgeous Dior dupes!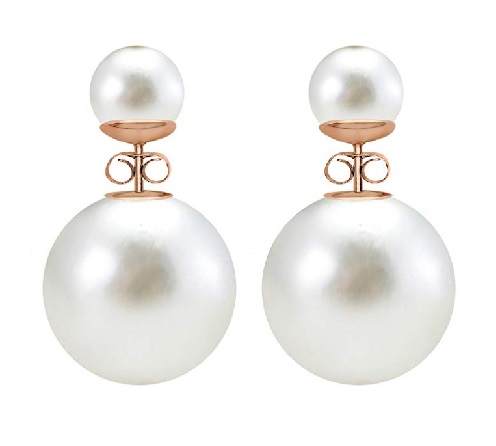 White Mise en Dior Earrings Dupes HERE
Another affordable alternative to the Tribales earrings is this pearl set! This is a rose-gold plated version and I would say I prefer them a lot more to the gold one. Moreover, they might not be genuine pearl, yet, they are hypoallergenic!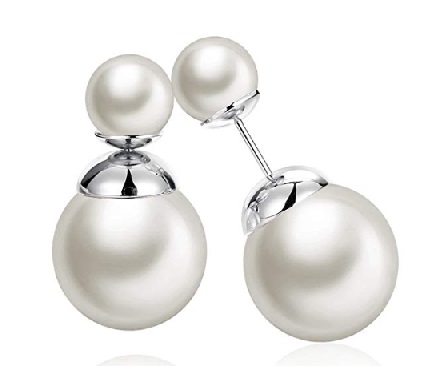 White-Gold Dior Tribales Earrings Dupes HERE (UK) & HERE (US)
Related: Your Guide To The Best Dior Diorama Bag Dupes
Although the description says that these are white-gold, I hardly doubt that! For the price tag of under $10, you can get these stunning Dior earrings dupes. The good thing about these silver-toned earrings is that you can wear them with absolutely everything, no matter the occasion!
Black Dior Tribales Earrings Dupes HERE (UK) & HERE (US)
If you don't fancy white pearls, the same brand offers Mise en Dior dupes in black too! Available in both white and gold tones, you can switch to these black earrings if you want something a bit different.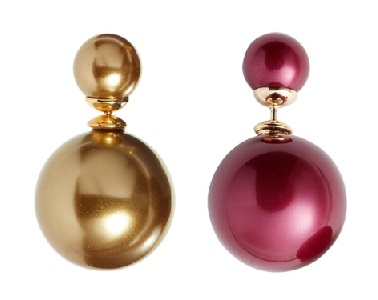 Dior Tribales Earrings Look-Alikes HERE
With a 14k-gold plate, these stunning Dior Tribales look-alikes are definitely worth the $48! Yes, slightly more expensive but you have the chance to get these double-pearl earrings in champagne or deep-wine colours! That's definitely more creative than the white or black options. With these colours, though, you need to be a little bit more careful with your style choices!
Are you a fan of pearl earrings?
Would you opt for one of the above Dior Tribales earrings dupes or get the real deal?
For even more Dior dupes, check out the main category!
Images Sources: Macys, Amazon, TheRealReal
YOU MIGHT ALSO ENJOY:
The Best Genuine Leather Dior Saddle Bag Dupes
Affordable Cartier Juste un Clou Bracelet Dupes
Tiffany Love Knot Dupes For WAY Less!
Cartier Juste un Clou Ring Dupes You Need To See!
Cartier Love Bracelet Dupes You Can Actually Afford!