Since 2005, we know that Chloe has the habit of creating cult bags. It all started with the slouchy Paddington bag, which sold out instantly! Well, it's fair to say that the brand hasn't stopped selling out its beautiful creations ever since. I've written not one or two posts about Chloe bag dupes but I've never done one about the Nile bag!
With an equestrian allure, the Chloe Nile bag debuted in the Spring 2017 collection. It took the fashion world by storm in no time. Actually, in a short period of time, the bag had largely sold out in stores and online. Furthermore, the Chloe Nile has been spotted on celebrities like Aimee Song and Solange Knowles.
Naturally, the flap bag's most notable component is the large bracelet top-handle in gold-toned hardware. With an adjustable and removable leather strap, all Niles can be worn long-shoulder, cross-body, or in the hand (via the bracelet). Conveniently, the bag comes in three sizes: minaudière, small, and regular.
Minaudière is the smallest of the three and looks like a tiny half-moon. Contrary, the other two sizes resemble the typical Chloe saddle shape. Apart from the most popular style for the Nile – smooth calfskin – it also comes in various colours and textures. If you look hard enough, you can find also find it in metallic and patchwork grained leather.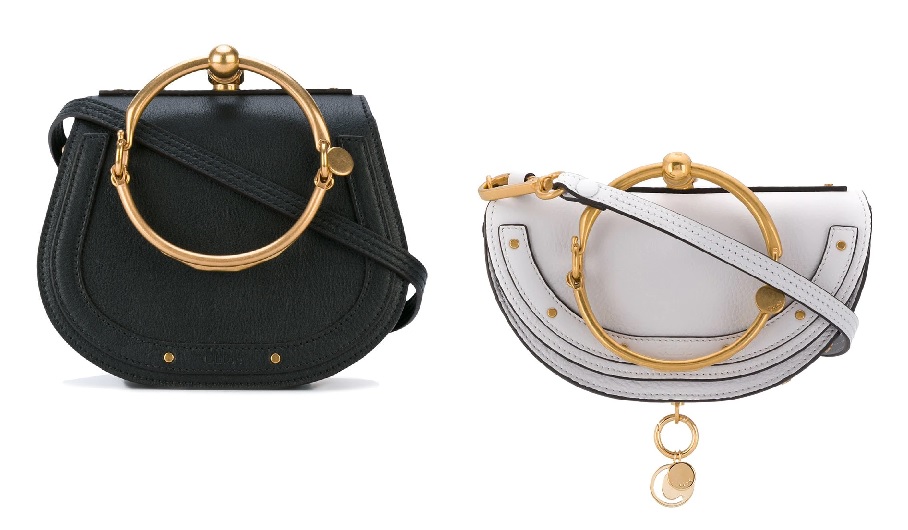 Chloe Nile Bracelet Cross-Body Bags HERE | $1,490
Yet, as much as you might love this cross-body beauty, you might not want to spend $1,500 and more! Thus, you might want to take a look at the Chloe Nile bag dupes I found online.
Trust me, they are definitely worth checking out!
Chloe Small Nile Bag Dupes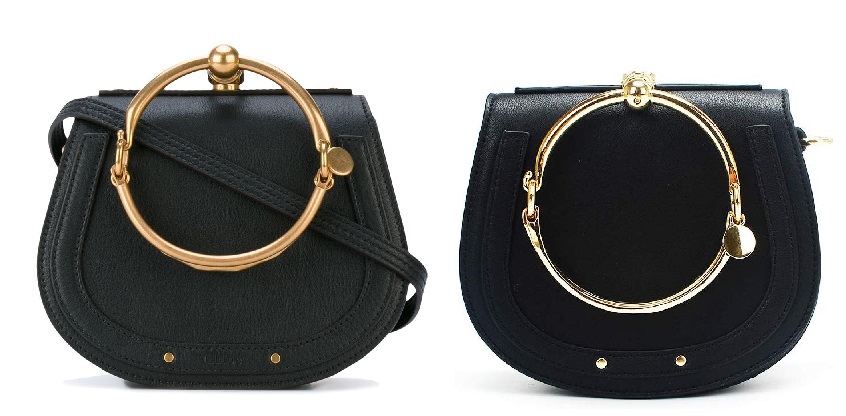 Black Chloe Nile Bracelet Bag HERE ($1,178) | Black Chloe Nile Bag Dupes HERE (UK) & HERE (US)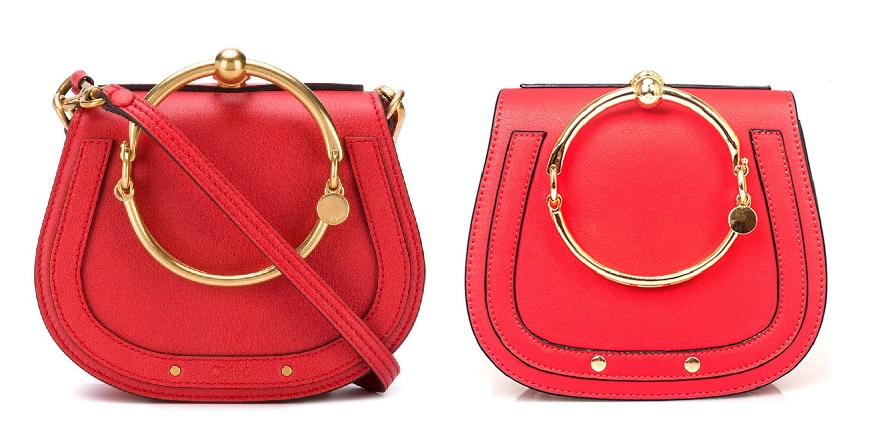 Red Chloe Nile Bracelet Bag HERE ($1,842) | Red Chloe Nile Bag Dupes HERE (UK) & HERE (US)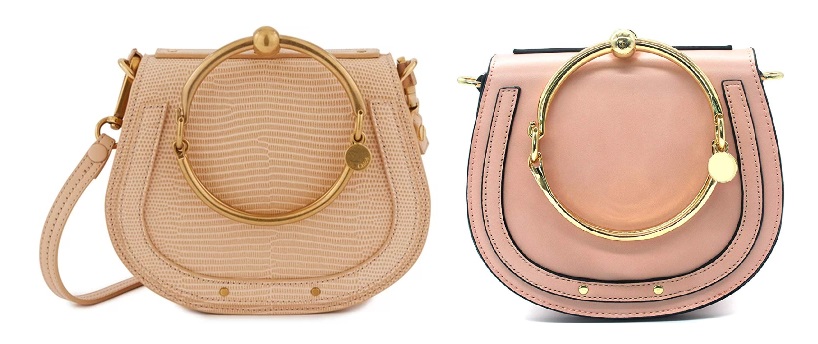 Pink Chloe Nile Bracelet Bag HERE ($1,765) | Pink Chloe Nile Bag Alternatives HERE (UK) & HERE (US)

Brown Chloe Small Nile Bag Dupes HERE

Even more Chloe Small Nile Bag Dupes HERE
Related: Chloe Faye Bag Dupes Worth Checking Out!
If you don't want to be put on the waiting list or simply can't afford the designer price tag, then you're in luck! These Chloe Nile bag dupes are all under $50. Actually, some are even $30 but you need to check if you'd like the colour first. Otherwise, the shape, size and design are the same.
Speaking of colours, there are even more available if you follow any of the links. Yet, I tried to include most of them. Although I would usually go for the black style, I prefer the lighter choices in this case. The brown and nude Nile dupes, especially, look stunning.
Surprisingly, these Chloe alternatives are made from genuine cowhide material! With gold-toned hardware and an adjustable leather strap, you can get all of the Nile's features for a fraction of the price. Although I haven't seen this design in the original Chloe bag, I particularly like leather detail on some of the bracelet handles. This can come quite in handy if the weather is cold or even hot and the handle changes its temperature accordingly!
Even if you don't fancy the Chloe Nile bag, you might want to give one as a present to a friend or relative. I know I wouldn't mind if somebody gives me such a stunning bag, even if it is a look-alike!
Chloe Mini Nile Bag Look-Alikes


Brown Nile Minaudière Bracelet Bag HERE ($1,413) | Brown Chloe Mini Nile Bag Look-Alikes HERE (UK) & HERE (US)


Grey Nile Minaudière Bracelet Bag HERE ($1,480) | Grey Chloe Mini Nile Bag Look-Alikes HERE (UK) & HERE (US)

Pink Nile Minaudière Bracelet Bag HERE ($1,480) | Pink Chloe Mini Nile Bag Alternatives HERE (UK) & HERE (US)

More Chloe Mini Nile Bag Look-Alikes HERE
I also stumbled upon some amazing look-alikes of the Nile Minaudière! With a half-moon shape, they still feature Chloe's recognisable bracelet handle. These minis look incredibly cute but if you want to be able to fit your phone in them, then you might have a problem. The newest tablet phones, as I like to call them nowadays, will definitely make closing this cross-body bag a challenge!
Apart from that, if you still want to get one of these mini Chloe Nile look-alikes, then you can buy one for under $70! For some reason, they are more expensive than the small style but you still have some more affordable options in other colours. It's just the black and white styles that break the bank! On the other hand, you still get these dupes in genuine cowhide leather. Thus, higher price tags might look a bit more alluring.
Whether you decide to get the original or opt for a look-alike, the Chloe Nile Bracelet bag is the perfect accessory for any occasion. From day to night, you can style your Nile with any outfit!
What do you think about these Chloe Nile bag dupes?
Images Sources: Amazon, Farfetch
YOU MIGHT ALSO ENJOY:
Incredible Chloe Tess Bag Dupes You Can Get Under $50!
Chloe Hudson Bag Dupes | Luxury For Less
Stunning Chloe Drew Bag Dupes For Less
Chloe Pixie Bag Dupes You Need To See!
10 Affordable Loewe Gate Bag Alternatives