I know I've been writing a lot about Chloe lately and, yes, this is another blog post about the French luxury fashion house. This time, though, I'm not going to write about affordable designer shoe alternatives! Today, I'm going to cover the Chloe Hudson bag and from where you can get a decent look-alike.
In the summer of 2016, Clare Waight Keller showcased the design of another incredible boho-style bag – the Hudson. Front flap with snap-fastening closure, tassel and a horseshoe shape make this bag a perfect everyday companion.
The Hudson is inspired by the Marcie – an iconic Chloé bag with raw-cut rich leather, large handles and hanging leather strips. At the moment, you can buy the Hudson in three different sizes. You can choose from – mini (H17 cm x W18 cm x D7.5 cm), small (H21.5 cm x W23 cm x D7.5 cm) and medium (H25.5 cm x W28 cm x D8.5 cm). The mini, though, is quite different from the medium. It has a lot more tassels and I couldn't find it on any of the online websites.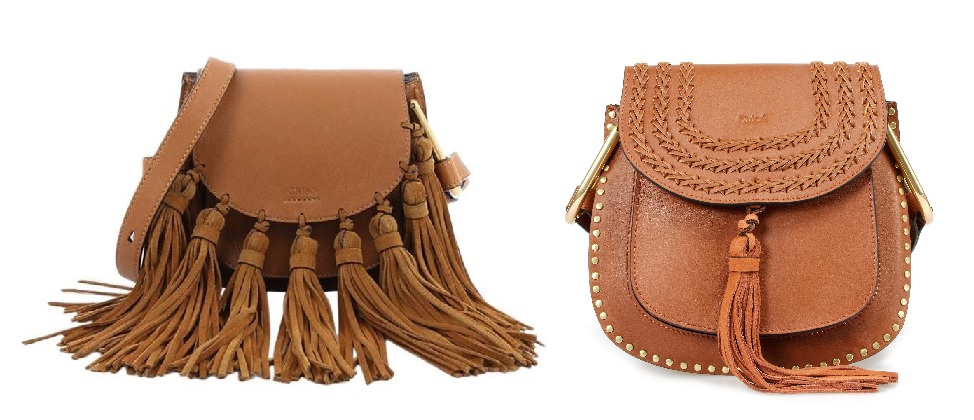 Chloe Hudson Mini Fringe Bag | Chloe Hudson Bag
If you're considering to buy this goodness, just make sure you have at least $1,500! Otherwise, you might want to consider getting a look-alike. The Chloe Hudson bag dupes you're going to see are not only gorgeous but also affordable.
Take a look ahead!
Chloe Hudson Bag Dupes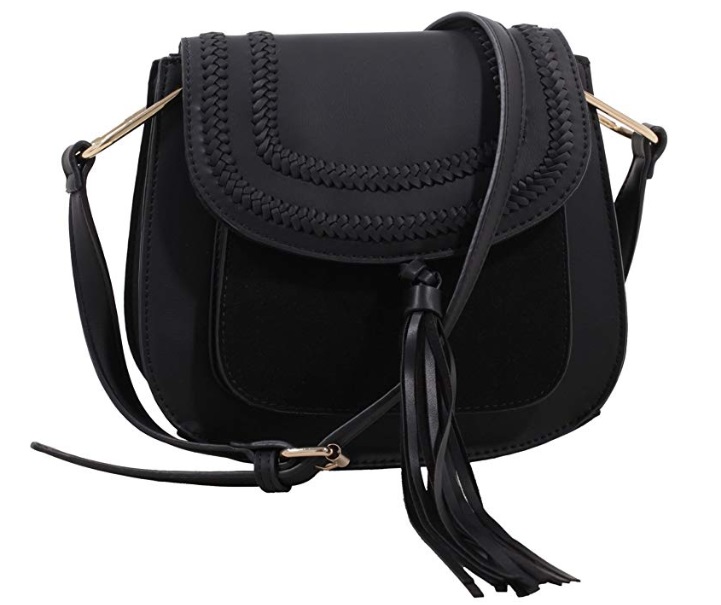 Black Chloe Hudson Bag Dupes HERE (UK) & HERE (US)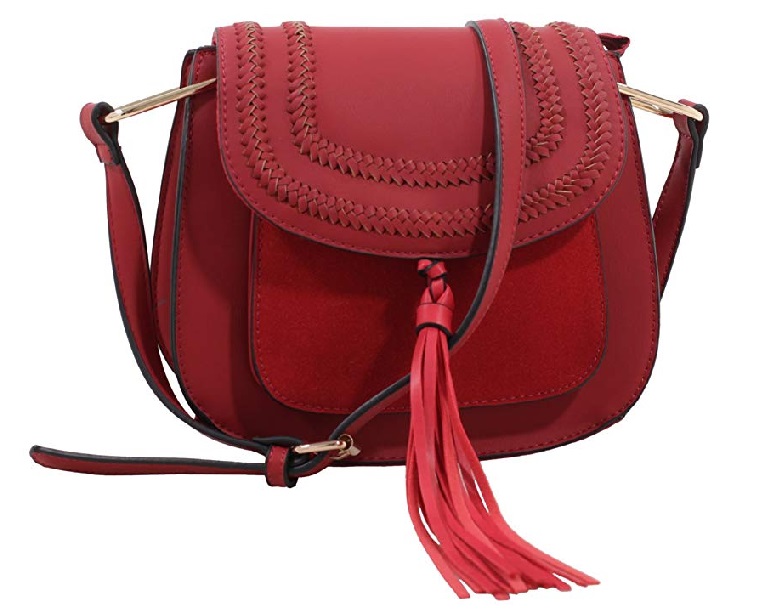 Red Chloe Hudson Bag Dupes HERE (UK) & HERE (US)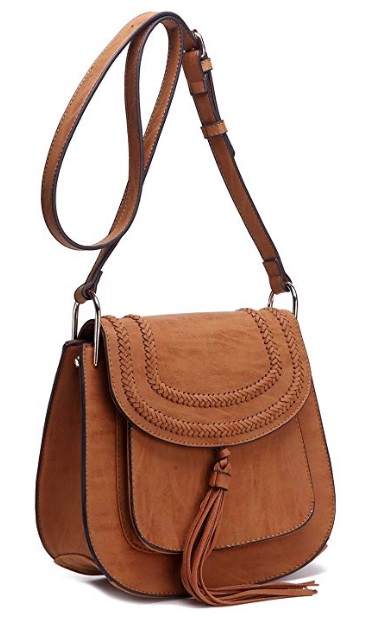 Brown Chloe Hudson Bag Dupes HERE (UK) & HERE (US)
Related: Chloe Pixie Bag Dupes You Need To See!
Are these original Chloe bags or dupes?! If I were to pass by someone on the streets, I would have thought she was carrying the Hudson! Apart from the missing logo and third stitching on the flap, these saddlebags are almost identical to the original.
Right now you can get one of these Chloe dupes for under $30! Sure, they are made from faux leather but the reviews say it all. Customers agree that the bags are of high-quality and well made.
In terms of colour options – they are, as you can see, limited. Nevertheless, you can still pick the black colour and style it however you please. That's the good thing about black – it goes with everything. It really does!
The only thing that you need to take into consideration is the suede material. Suede, on the other hand, might not go too well with other fabrics. Silk, for instance, might be a tricky fabric to style with suede. Especially when you have a suede tassel bag on your shoulder!
Chloe Hudson Mini Fringe Look-Alikes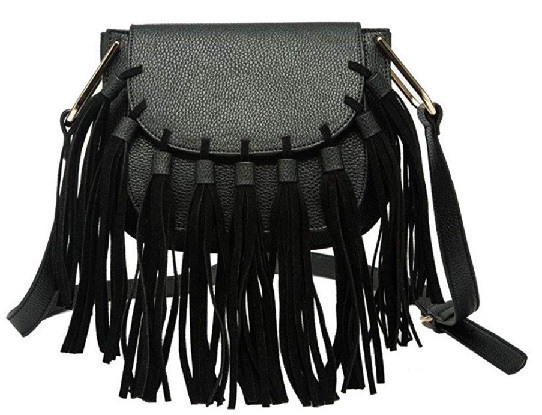 Black Chloe Hudson Mini Fringe Look-Alikes HERE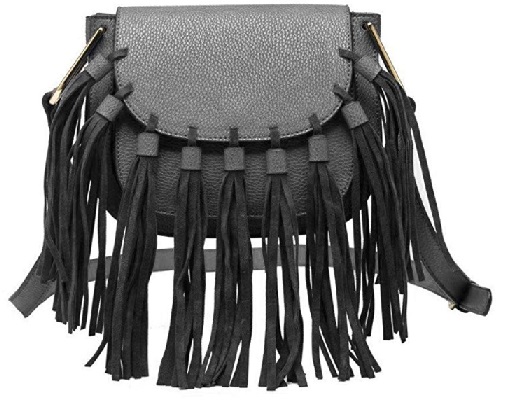 Grey Chloe Hudson Mini Fringe Look-Alikes HERE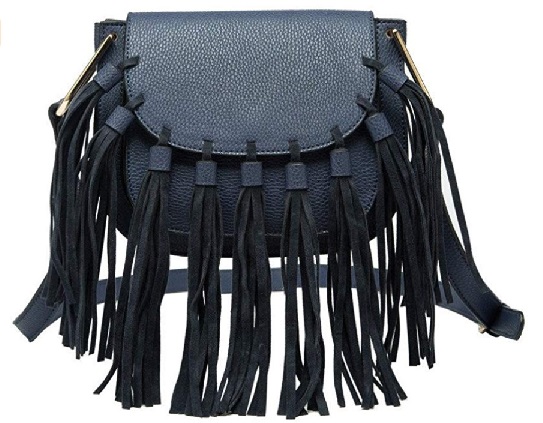 Blue Chloe Hudson Mini Fringe Look-Alikes HERE
These fringe bags are absolutely spot-on! Ok, I think they might be slightly larger than the original but they are still the best mini Chloe Hudson look-alikes I've ever seen. The dimensions are: 8.5'L x 3'W x 7'H. Available in black, grey or dark blue, one of these beauties will cost you only $38!
Furthermore, the crossbody bags are made in premium vegan leather. Trimmed with long fringe, they also have an adjustable strap. Also, to make your life easier, the fold-over flap is with a magnetic closure. Perfect if you're running late and you want to quickly put your keys, phone and other essentials in the bag!
Personally, I find the tassels are a bit too much but if the occasion is right, I can see myself carrying one of these bags. Actually, one of these mini Hudson dupes will go really well with a pair of suede over-the-knee boots! A beige or light brown pair will be perfect for the black or grey designs.
The Chloe Hudson a beautiful bag that definitely needs to make a return. The casual, chic boho-style is perfect for an everyday outfit!
Sadly, I couldn't find it available anywhere. Even if you find it, though, I think you'll still have to pay that high price tag. If you want to save some money or just want to own a fringe-style bag, then take a second look at the above Hudson dupes.
If you're looking for even more designer dupes, check out my Amazon store.
Images Sources: Amazon
YOU MIGHT ALSO ENJOY:
7 Of The Best Chloe Bag Replicas For Under $100
Incredible Chloe Tess Bag Dupes You Can Get Under $50!
Stunning Chloe Drew Bag Dupes For Less
The Best YSL Tassel Bag Dupes Under $50!
The Best Genuine Leather Dior Saddle Bag Dupes