In today's designer dupes post, we'll take a look at one of the most iconic pieces of footwear of all time – the Chanel slingback shoe! The original slingback was first introduced in 1957 by Coco Chanel. Needless to say, it was the epitome of classic chic style! With its two-toned colour, the shoe was designed to optically elongate the leg whilst shortening the foot.
The bicoloured shoes were an instant hit at the time but little did Coco Chanel know that her classic shoes would thrive well into the 21st century! For his AW '15 collection, Karl Lagerfeld decided to bring back the matching two-tone slingbacks. Of course, the item instantly flew to the top of the wish lists of not only editors but also fashionistas all over the world!
Nowadays the Chanel slingback shoes are actually quite tough to find. The best place to get your hands on a pair is Vestiaire Collective. Unfortunately, even used pairs would cost you anything from $600 to much more. For those of you who want to save your hard earned cash, I've managed to find some incredible dupes of the Chanel slingbacks!
Ahead, the best Chanel slingback dupes from Amazon, as well as retailers all around the world!
The Best Chanel Slingback Dupes From Retailers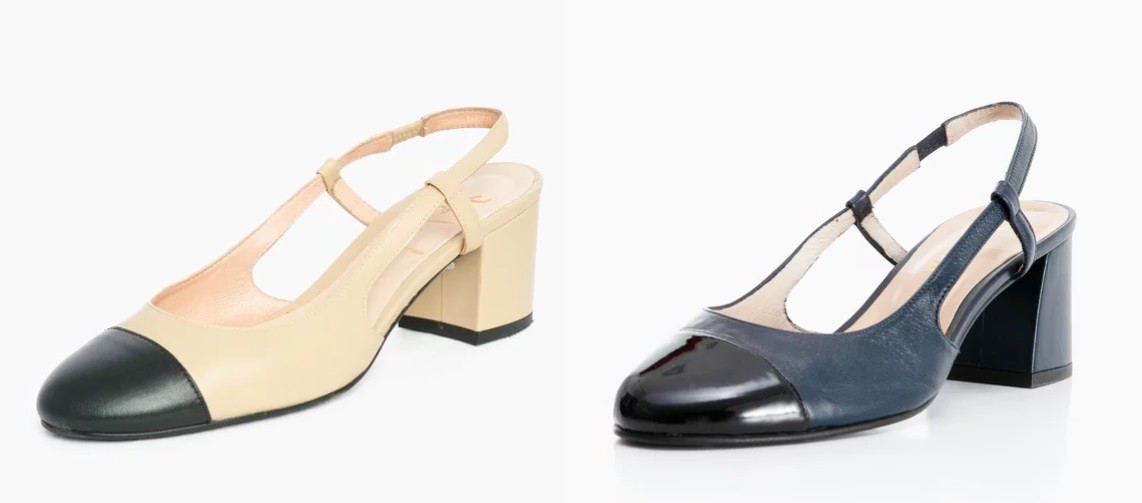 Barton Heels Chanel Slingback Dupes HERE
Made from genuine leather, Barton Heels offer two dupes of the timeless Chanel slingback. You can go for the original black and beige combination or alternatively, the dark blue style.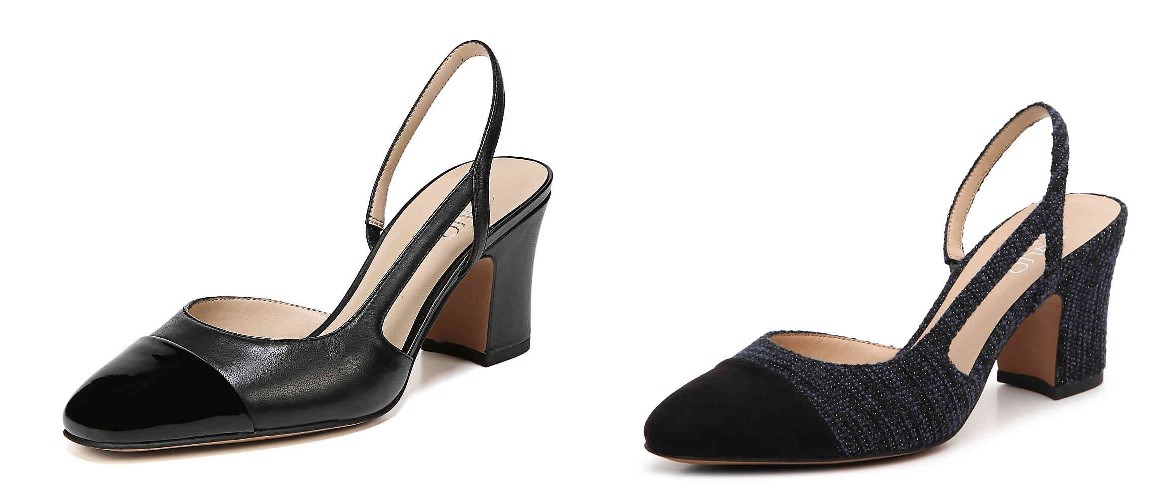 Franco Sarto Chanel Slingback Dupes HERE
I've also managed to find some incredible Chanel dupes from Franco Sarto. Both versions feature an asymmetrical slingback strap with a black cap toe. Opt for the classic all-black leather style to match your office attire or the navy fabric slingback for a chic look.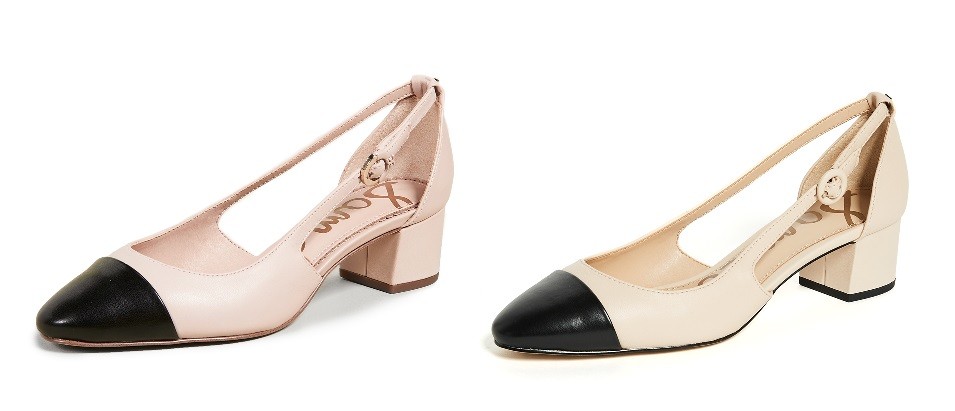 Sam Edelman Slingback Shoes HERE
Sam Edelman also offer their own version of the classic Chanel two-toned shoe. With the buckle at side, you can go for either of these neutral dupes for both casual and formal looks. Although you'll still be paying around $100 for a pair, you will at least be getting good-quality leather shoes for a fraction of the original's price!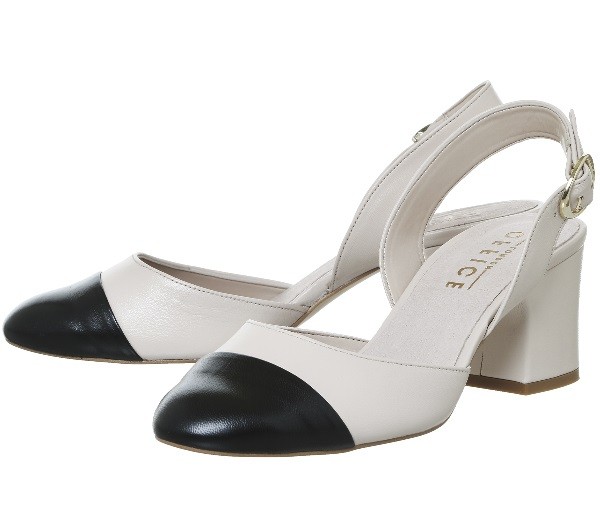 Office Two-Tone Slingback Dupes HERE
Office, on the other hand, offer a black and white dupe version with Parisian style block heels and leather upper! These appear a bit chunkier compared to the original Chanel shoes, nevertheless they still feature an unmistakably similar design.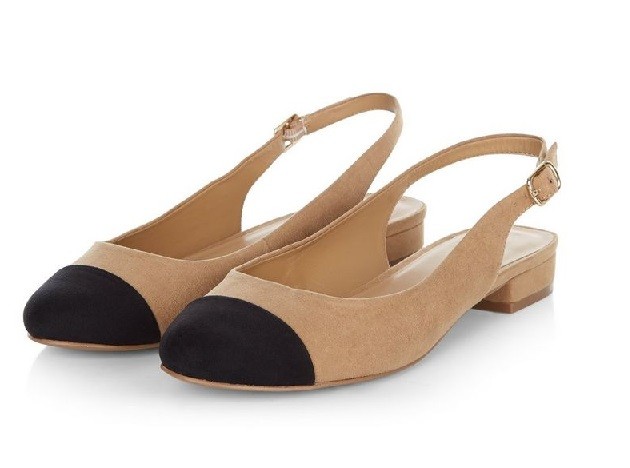 New Look Slingback Dupes HERE
Costing just over $5, the Chanel slingback look-alikes from New Look are your cheapest option. You can clearly see that the fabric is very thin and the heels are definitely shorter compared to the original. However, if you're looking for an affordable version of the original slingbacks, these could well be your best bet!
Related: 6 Of The Best Chanel Look Alike Bags
Chanel Slingback Dupes From Amazon

Sam Edelman Chanel Dupes HERE (UK) & HERE (US)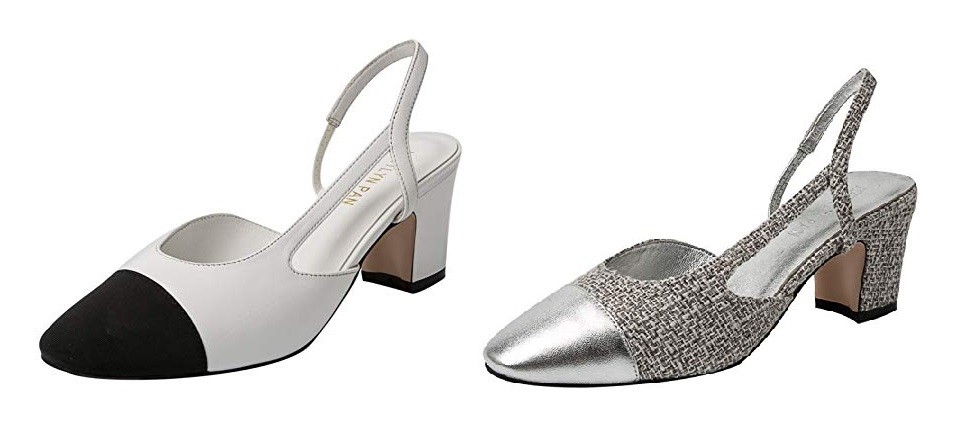 Two-Toned Slingback Dupes From Amazon HERE

More Chanel Slingback Dupes From Amazon HERE

Chanel Slingback Shoes Dupes HERE (UK) & HERE (US)

Colourful Chanel Slingback Dupes HERE (UK) & HERE (US)

Chanel Slingback Two-Toned Dupes HERE
If you're a regular visitor of my blog you'd know that most of the designer dupes I feature are from Amazon. All the above Chanel slingback dupes are no exception! One of the greatest advantages of shopping on Amazon is the endless variety of designer dupes styles.
As you can see, in comparison to the retailers' offerings, you have a wide selection of colour combinations here. You can get a pair of Chanel slingback dupes in neutral, monochrome or colourful styles. All of the designs, with the exception of Sam Edelman's, are pretty much the same. Moreover, all of these look-alikes are made from genuine leather, so you should be getting a good-quality pair for your money!
Also, prior to deciding which pair you should get for your next ootd, you can always rely on the customer reviews!
The History Behind The Chanel Slingback
A famous fictional character once said, "Husbands come and go, but the Chanel slingback is forever!". Before the two-tone shoe, women's footwear had always been in a single colour, matching the colour of the outfit. Of course, Coco Chanel refused to conform to society's standards. Inspired by men's two-tone footwear, Coco created the Chanel slingback shoe in 1957. It wasn't simply a two-tone shoe though!
The novel design was created to deliver a flattering effect. For one, the black toe cap appears to shorten the foot, making it look smaller. The beige colour, on the other hand, is selected to visually lengthen the leg! Furthermore, the slingback provides great freedom of movement. The 5cm high square heel was made to ensure comfort for women's contemporary lifestyles. The design was also created to complement every look for every occasion, as far as possible. Eventually, the slingback was called 'the new Cinderella slipper' by the press.
Through the years, the Chanel slingback had been produced in various colours and fabrics. The toe caps were featured in different shades of navy, brown and gold. As mentioned briefly at the beginning, Karl Lagerfeld brought back this iconic shoe for his Chanel AW '15 show! Since then, the two-tone classic has undergone dozens of makeovers, including high heels, boots and even espadrilles.
In the end, almost sixty years after it was conceived, the Chanel slingback has proven to be a true fashion accessory, combining timeless elegance, comfort and modernity!
What do you think of this classic shoe?
Would you go for a Chanel slingback dupe or splurge on the original?
Also, don't forget to check out the Chanel category for more designer dupes!
YOU MIGHT ALSO ENJOY:
The Best Gianvito Rossi Plexi Dupes You Can Get
Cult Gaia Bamboo Bag Dupes You Can Get Right Now!
The Best YSL Tassel Bag Dupes Under $50!
Incredible Dolce & Gabbana Lucia Bag Dupes Under $100!