The French fashion house Chanel might be best known for the 'little black dress', the No.5 perfume, and the Chanel suit, but you can't turn a blind eye when it comes to the classic 2.55 Chanel bag. For over 60 years Chanel bags have been making history within the fashion industry. Icons such as Elizabeth Taylor, Brigitte Bardot and Jane Fonda were one of the first to show off the classic 2.55 Chanel flap bag. Since the 60s Chanel bags have transformed into various shapes, styles and colours, but they still convey the message of an 'it bag' when it comes to making a fashion statement. Chances of your favourite celebrity not owning even a single Chanel bag are zero to none, I can bet you on that any time, any day. Kylie Jenner alone owns at least three Chanel quilted handbags, who remembers the Snapchat bagdrope review?!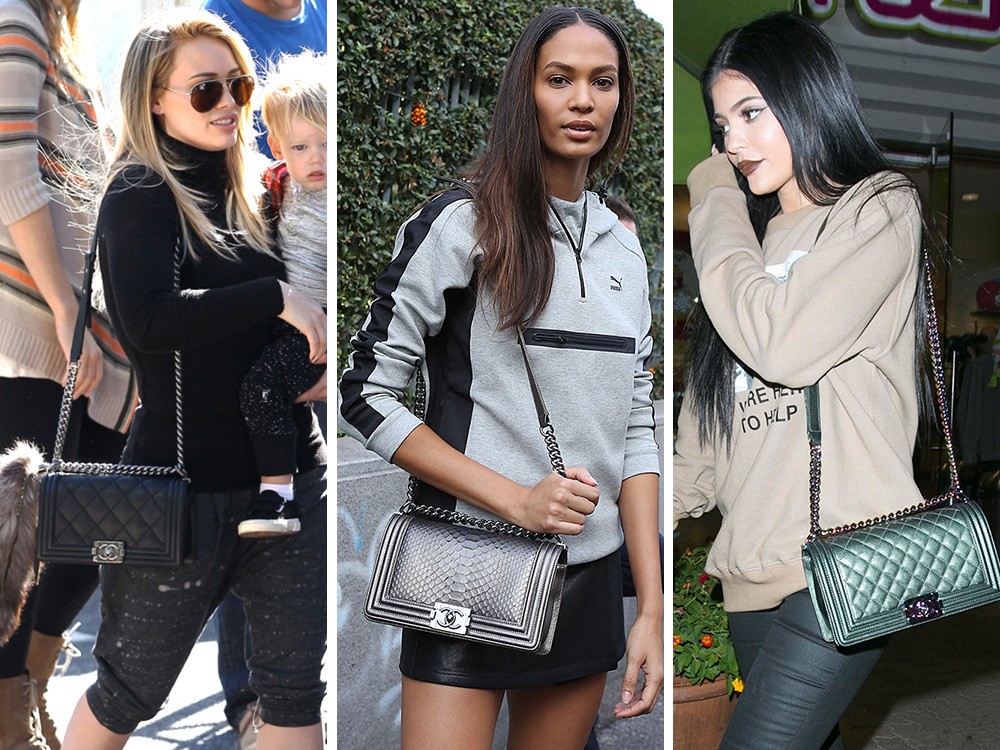 Wistfully, averaging $3000+ a pop, most of us won't be able to afford a Chanel handbag… most likely – NEVER! While dreaming of owning one of these 'it bags' is absolutely fine, you might want to consider investing in a more sensible option – a Chanel dupe! Ahead:
The Best Chanel Look Alike Bags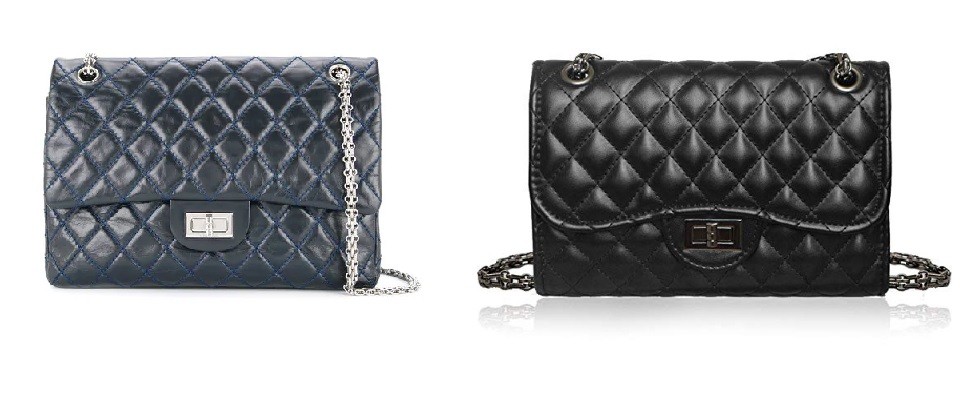 CHANEL VINTAGE BAG ($4,608) | CHANEL LOOK ALIKE BAGS HERE (US) & HERE (UK)

CHANEL BLACK BOY BAG ($5,045) | CHANEL LOOK ALIKE BAGS HERE (US) & HERE (UK)

CHANEL PINK BOY BAG ($4,300) | CHANEL LOOK ALIKE BAGS HERE (US) & HERE (UK)
Read Next: High-Quality Genuine Leather Hermes Bags Replicas

CHANEL GREY BOY BAG ($5,200) | CHANEL LOOK ALIKE BAGS HERE (US) & HERE (UK)

CHANEL WAIST BAG ($2,900) | CHANEL LOOK ALIKE BAGS HERE (US) & HERE (UK)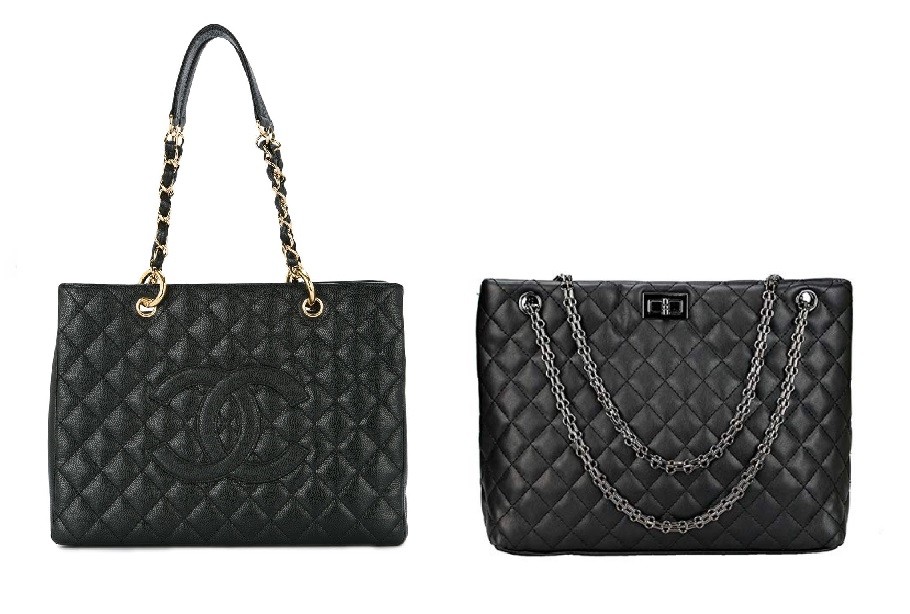 CHANEL VINTAGE SHOULDER BAG ($5,355) HERE | CHANEL LOOK ALIKE BAG HERE (US)
The Chanel Bag History
You might be wondering how did Coco manage to make her handbags not only famous and recognisable but also shape them into a timeless fashion piece? Let's take a quick trip down memory lane. Although Gabrielle started her brand in 1909, it wasn't until 1929 when she designed and made her first clutch handbag. Still, it wasn't just a clutch, it was the clutch that was about to change the world of handbags as we know it. In February 1955 the clutch-only world ended and a new era began – the era of the shoulder bag! That was the time when the 2.55 Chanel bag was born. This bag didn't just mark the birth of the first shoulder bag, it also served as a huge milestone for women. This was the first time it was acceptable for women of society to be seen carrying shoulder bags. Since then Chanel produced a ton of handbags, particularly around the 90s, that looked very similar to the 2.55 bag. Structured shape complete with woven leather, quilted details, chain strap and flashy gold hardware. Coco made history within the fashion industry with her handbags, but very few people know that behind each handbag design there is a lot of history. Each detail in the bag has a purpose, a memory or a reason for its existence. Let's take a brief look at what makes these Chanel handbags so special and investment-worthy!
Modern-day Chanel Bags Styles
The Classic 2.55 Bag. So far we know that this handbag made history, now let's run down the list of historical facts with regards to its design. The burgundy interior represents the colour of the uniforms in the orphanage where Gabrielle grew up. As for the leather interwoven chain, it was inspired by the caretakers at the orphanage as they would hold keys at their waist dangling below. She stored her love letters in the zipped compartment inside the front flap. The back of the bag featured an envelope pocket where she stored her cash. The bag's lock mechanism is commonly referred to the 'mademoiselle' lock-in reference to Coco Chanel never marrying. For the diamond or herringbone pattern on the exterior, Coco took inspiration from the jockeys' riding coats, the stained glass windows of the abbey at Aubazine as well as the cushions in her Paris apartment. The 2.55 bag can cost as much as $6,000, which makes it 'a bit' pricey. Gladly, there are plenty of 2.55 Chanel Look Alike Bags to choose from!
The Classic Single-Flap Bag. The difference between the 2.55 and the classic single-flap bag has been stirring huge debates over the years. Let's make one thing clear, the classic flap refers to the handbags with CC locks that follow the design conventions Karl Lagerfeld debuted in the 1980s. However, traditionally 2.55s and Classic Flaps are both Double Flaps – they both feature an exterior flap closure and an interior flap compartment. While the 2.55s have always been this way, there were times when Classic Flaps have been made in certain sizes that had only the exterior flap with an open interior. Those bags were called Single Flaps. Sadly, single-flap bags were discontinued in 2014. Now all Classic Flap and 2.55 bags have double flaps. However, it is still possible to find single-flap bags on the resale market. If you can't there's always the option of single-flap Chanel look alike bags. Just make your choice between the Mini, Medium-sized, Jumbo or Maxi bag.
The Boy Bag. The Boy bag also a Karl Lagerfeld's creation and it also comes in four different sizes – Small, Medium, New Medium and Large. Furthermore, Mr Lagerfeld introduced the Boy Bag as a tribute to Coco Chanel. It is a well-known fact that Coco Chanel was very tomboy-ish and she was often inspired by menswear. Her beau and the love of her life, polo player Boy Capel, were her biggest muses. Karl Lagerfeld paid a tribute to those men with the birth of the Chanel Boy bag. What separates the Boy bag from the Classic is the more stylish and bulkier design of the handbag. Compared with the Classic Flap, the Boy bag has a very chunky and square shape. Moreover, it is more structured and boxy featuring straight lines and angular corners. The chunkiness adds to the casual and more modern feel of the design. The chain, on the other hand, is broader with a darker, more antique-looking hardware. It is also lined with cloth and showcases a square lock that opens with push claps, compared to the iconic interlocking CC closure on the classic flap bags.
Find out more about Chanel here!
What is your opinion of the Chanel handbags?
Do you own Chanel look alike bags?
Psst! Check out the designer dupes category for even more look alikes of your favourite brands!
YOU MIGHT ALSO BE INTERESTED IN:
6 Of The Best Affordable Gucci Bag Dupes
7 Of The Best Chloe Bag Replicas for under $100
The Ultimate Guide To Bulgari Serpenti Bags Dupes
Incredible Dolce & Gabbana Lucia Bag Dupes Under $100!
These Are The Best Prada Cahier Bag Dupes You Can Get