If you are a Chanel fan, you probably know that the Classic Flap and 2.55 bags are the brand's most sought-after accessory items. However, the Chanel Boy bag has also earned its place among the famous 'it' bags!
Although Chanel has been known for its classic and timeless pieces, the Boy bag brings a new wave of freshness. Chanel's approach to the Boy bag has culminated in clean and bold designs that have been winning fans' hearts ever since its debut in 2011!
With its structured and minimalistic design, the Chanel Boy bag has become a timeless piece, worth investing in! Unfortunately, if you haven't set aside some $4,000, you'll hardly be able to afford to get one yet.
Fortunately, you can still enjoy owning a Chanel Boy bag. To do so, however, you'll have to settle for a designer dupe. The good news is that a Chanel alternative will cost you a lot less! Some of the Chanel Boy bag dupes I found will set you back as little as $40! Now that's affordable, right?
Read ahead to see the many alternatives to the Chanel Boy bag I've managed to find!
Chanel Boy Bag Dupes

Black Chanel Boy Bag HERE ($4,300) | Black Chanel Boy Bag Dupes HERE (UK) & HERE (US)

Burgundy Chanel Boy Bag HERE ($4,325) | Burgundy Chanel Boy Bag Dupes HERE

Red Chanel Boy Bag HERE ($4,300) | Red Chanel Boy Bag Dupes HERE (UK) & HERE (US)

Chanel Boy Bag Alternatives HERE & HERE

More Chanel Boy Bag Alternatives HERE

Even more Chanel Boy Bag Dupes HERE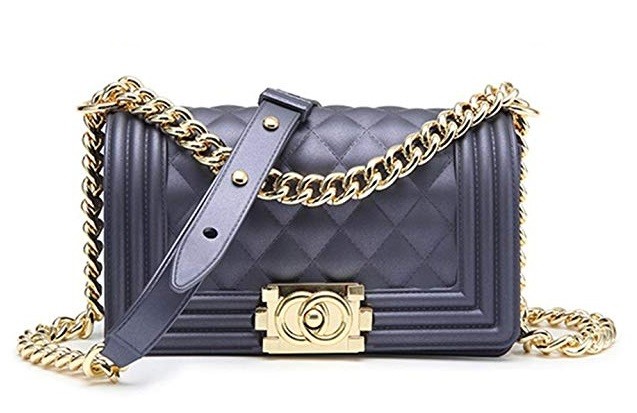 Silver Small Chanel Boy Bag Dupe HERE (UK) & HERE (US)
Related: 6 Of The Best Chanel Look Alike Bags
Most of the Chanel Boy bag dupes I found are made from either PVC or rubber material, hence the affordable price level. They all feature the flap closure alongside the chain strap with leather detail. Unfortunately, you won't be able to find a dupe with the interlocking 'CC' closure, as that would be illegal! However, you do get an interlocking detail, coming in the form or circles instead.
Some of the other Chanel Boy dupes are slightly more expensive. You'll be paying just over $100 per handbag. Yet, in this case, the higher correspond to better quality! Based on the description, you'll be getting genuine sheepskin. Customers are even raving about the quality and the design of the dupes. In addition to the use of high-grade material, the stitching is done incredibly well. Most of the bags come with gold hardware but there are a few silver-hardware alternatives too! Moreover, all handbags come in a protective pouch to keep the dust away.
My personal favourite is, of course, the black version of the Chanel Boy bag. You can pair with pretty much any of your outfits. It will complement both daily and night outfits. I also think that it is suitable for all seasons compared to the lighter version, which would be more appropriate during the warmer months.
The History Behind The Boy Bag
The Chanel Boy bag was first introduced in the FW 2011 ready-to-wear collection. The late Karl Lagerfeld paid tribute to the men in Coco Chanel's life by designing the Boy. Not only that, the handbag is named after Coco's biggest love – Boy Capel!
Boy Capel was also one of her biggest muses! Gabrielle had a love for menswear and often took inspiration from it, influencing the design of the Boy bag. Clearly, the bag is more edgy and modern compared to its classic 2.55 sister.
The design was inspired by cartridge bags, which were originally made for hunters. Heavy hardware, bold shape and unique lock define the Boy bag. Moreover, it is lined with a cloth rather than leather. The lock, on the other hand, is opened by push claps.
Coming in a range of different colours and materials, you can also get the Boy bag in three different sizes. The small size can be used as a purse for your essentials during a night out. The medium is good for any occasion and can carry slightly more items. The large Boy, on the other hand, is perfect for all who like to carry their whole life with them!
The Boy bag is now considered an investment, unfortunately, it is a quite expensive one. Thus, you can always opt for one of the Chanel Boy bag dupes above!
So, would save or splurge?
Don't forget to check out more Chanel dupes here!
YOU MIGHT ALSO ENJOY:
Chanel Slingback Dupes – The Only Guide You'll Need!
Valentino Spike Bag Dupes – Luxury Look For Less!
Longchamp Le Pliage Tote Dupes That Rival The Original!
Incredible Chloe Tess Bag Dupes You Can Get Under $50!
Your Guide To The Best Dior Diorama Bag Dupes